Happy Fine Motor Friday! It's good for toddlers and preschooler to do a variety of fine motor activities. Having different activities helps work different fine motor muscles and hand coordination which is necessary for handwriting. Fine Motor Fridays is all about giving you a bunch of ideas to do with your little ones! Be sure to check out activities from our co-hosts at the end of this post! 
Since our ABC Snowflake Match game was such a success, I decided to recreate it for our space theme! Only Caden rarely enjoys doing the same activities more than twice, so he wasn't interested in playing this game in the same way! That's when I had to put my thinking cap on and come up with a new twist! I decided to make into a scavenger hunt!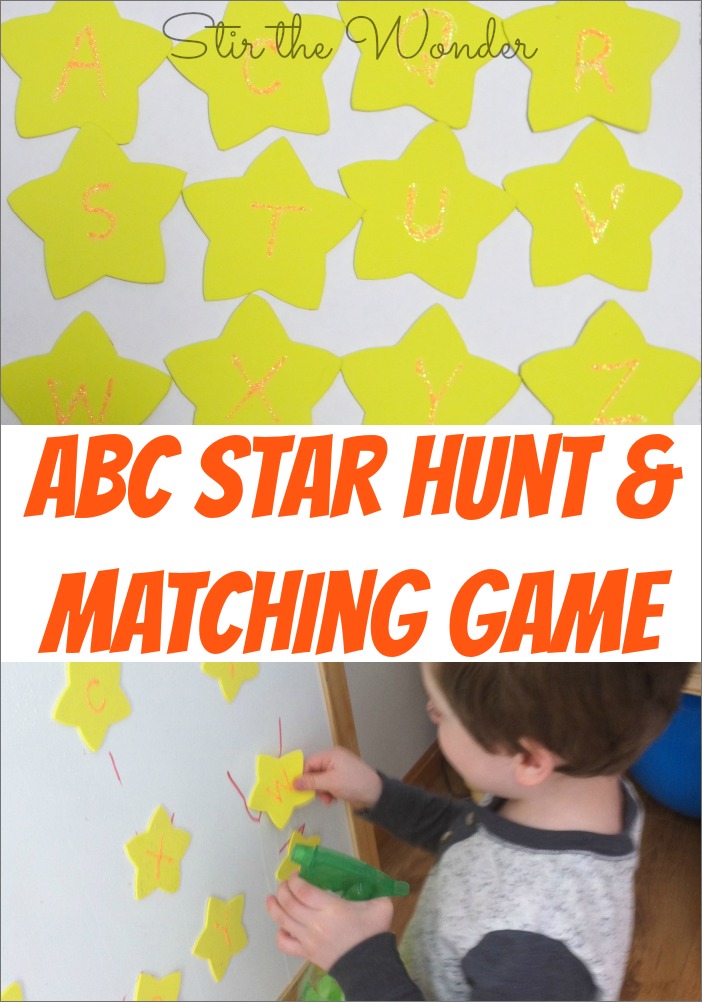 Preschoolers will love hunting around the house or room looking for stars to match! The ABC Star Hunt & Matching Game is a great activity to get kids active while practicing fine motor skills and letter recognition! To make this game for your kids you'll need a few supplies:
yellow craft foam

star pattern or cookie cutter (optional, you can also free hand stars)

glitter glue

scissors

spray bottle
 Directions for making ABC Stars:
Trace or draw stars on yellow craft foam, then cut them out.

Write letters on the stars using glitter glue or permanent marker. 
To set up this game, tape the stars all over the house or room and write letters on a white board or large window with dry erase markers. Then invite your child(ren) to hunt for the stars and match them up to the letters on the board, using a little water from a spray bottle to stick them to the board.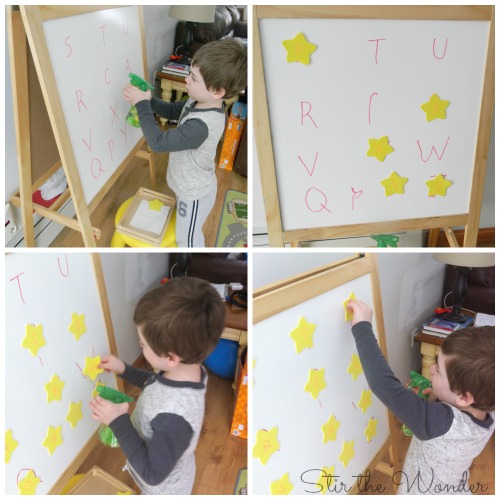 Caden loved searching for the ABC stars! First he would pick out a letter from the board to search for and then we would go around the house to find it! When he got bored with running around the house on his own, he had fun hunting on piggyback! He had so much fun we played again last night! He was so proud of himself for matching up all the letters and I am proud of him and his progress with alphabet recognition! 
 HAPPY FINE MOTOR FRIDAY!
Check out these great fine motor ideas!
Pony Bead Rainbow Pattern Activity from School Time Snippets
Play Dough Filled Balloons from Craftulate
Glitter Stardust Writing Tray from Lalymom
Uses for the Fine Motor Tools Set from Powerful Mothering
Save
© 2015 – 2017, Stir The Wonder. All rights reserved.