Young kids need to be introduced to the alphabet many times, in new and novel ways for it to stick. One way to come up with interesting activities is to use themes based on holidays, seasons or a child's interest. This month I created a fun Christmas themed alphabet activity that is perfect for preschoolers learning to identify the letters of the alphabet and their sounds. 
The Hands-On Activities for Kids Monthly Link-Up is a place to stop by every month to share your hands-on learning activity posts! Brought to you each month by Stir the Wonder and Enchanted Homeschooling Mom.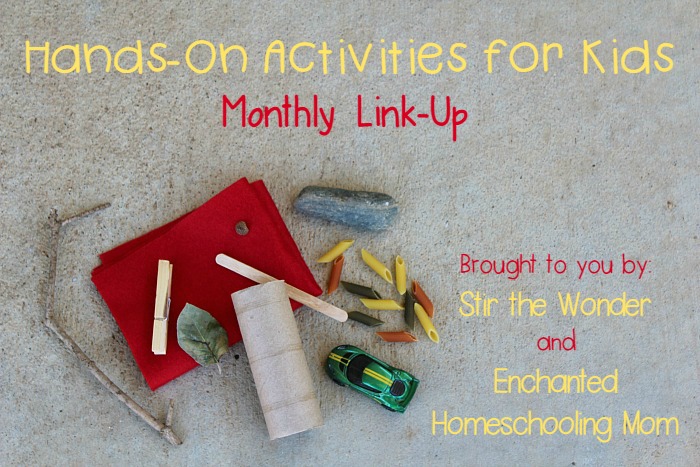 The Christmas Tree Alphabet Sounds Search and Match is a quick, easy and fun way for young learners to practice letter identification and learn their sounds using objects frequently seen around this holiday season. To create this activity for your child(ren) you just need a few things.
Materials Needed
Mini Christmas Tree

Magnet letters or small letters

Small Christmas objects
The set up for this activity is quick and easy. Gather your objects and letters, then place them in the plastic ornaments. Once your ornaments are filled, hang them all around the mini tree. Then you can place the tree on the floor or a small table and invite your child to play a game.
Caden had so much fun searching the tree and discovering what objects were in each ornament. Then we matched up the objects to the letters he found on the tree! He still needs guidance with this part, but by the second time we played, he understood what he was supposed to do and even made a few of the matches on his own!
---
Here's a fun activity from Enchanted Homeschooling Mom to help kids learn the difference between common nouns and proper nouns.
Welcome to the Hands-On Activities for Kids Monthly Link-Up Guidelines! Please make sure to link directly to your post (not your main blog page) so we can all enjoy learning about your hands-on learning activity post that you want to share.
If you would like to spread the love for this blog hop by adding a button to your site please visit HERE to grab the code! We have created a Pinterest Board so that we can share all of your creative and inspiring hands-on learning ideas and activities. Make sure to stop by and check it out HERE.
Please link up your hands-on learning posts below. Feel free to link up as many posts as you would like to both new and old!
Save
© 2014 – 2017, Stir The Wonder. All rights reserved.