DIY Liquid Watercolor Paint is an inexpensive way to add to your art and craft supplies! There are so many different activities you can use liquid watercolors for, including plain ol' painting, messy painting, sensory bins and more! I've always wanted some liquid watercolor paints, but I never got around to buying some, plus they can be a little expensive. So I was so excited when I came up with an easy recipe for making my own that used supplies I already had!
There are a couple of different recipes out there for making your own liquid watercolors (See Happy Hooligans and Preschool Inspirations) but I was never able to use their recipes because I didn't have the right supplies. I was thrilled when I realized I could make our own using a common art medium for kids, and that it actually works great!
This post contains Amazon Affiliate links.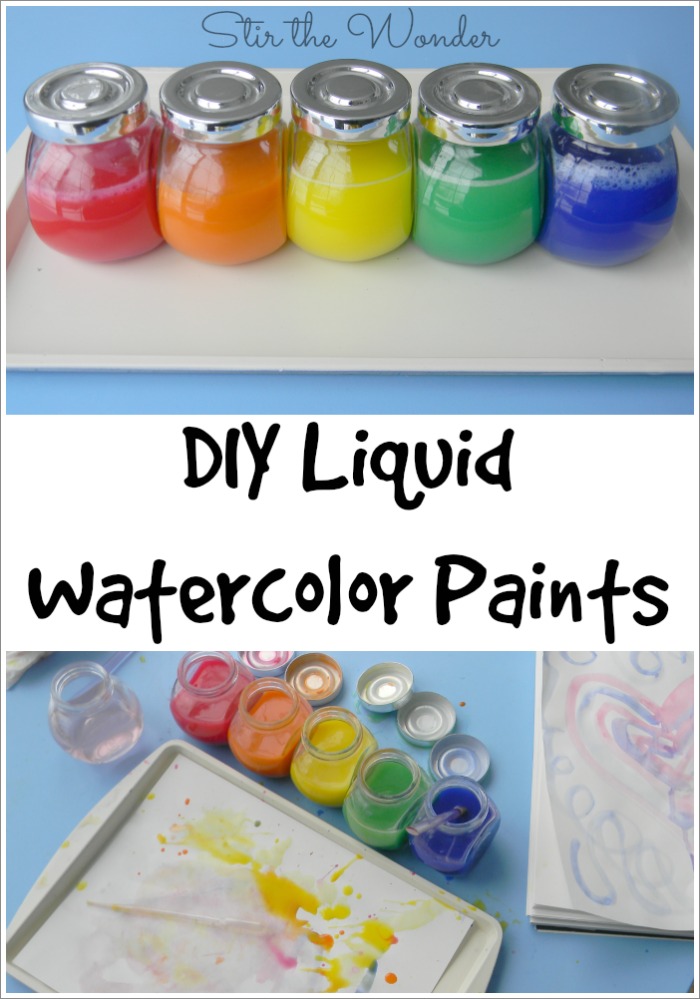 This post contains affiliate links.
DIY Liquid Watercolor Paints
To make these liquid watercolor paints couldn't be easier! You only need a few supplies and most homes with kids already have them in their craft closet or where ever you keep the arts and craft supplies!
Supplies:
Warm Water

Jars or bottles for storage
I came up with this recipe for liquid watercolor paints when I realized washable tempera paint is water soluble, which means when you add water it breaks down the paint into a more liquid state and that's what makes it washable with soap and water. So I decided to give my idea a try! I squirted a little tempera paint into my small glass jar from IKEA and added some warm to hot water. Then I put the lid on and shook it up until all the paint had dissolved into the water. What I had left was liquid watercolors! 
These liquid watercolors can be used in many creative ways! You can use them to add a little color to a fizzy science activity or sensory bin, like our Fizzy Alien Planet Sensory Play bin or just use them to experiment with a variety of painting techniques! We first tried out these paints using a pipette or dropper and the results are amazing! These pictures really don't do the color justice!
You can control the vibrancy of the colors with the amount of paint you use to mix up  the liquid watercolors. More paint and less water will give you brighter colors, less paint and more water will give you pastel colors.
These homemade liquid watercolor paints also work beautifully for traditional watercolor painting! I just love how my painted heart turned out! The colors blended together just enough to make it interesting! I can't wait to use these paints to try other painting techniques!
What is your favorite painting technique? Stop by my Facebook page and tell me all about it!
Check out my Paint Crafts for Kids board on Pinterest for more awesome painting ideas!
Follow Samantha @Stir the Wonder's board Paint Crafts for Kids on Pinterest.
© 2015 – 2016, Stir The Wonder. All rights reserved.