Happy Fine Motor Friday! Today marks the one year anniversary of this fine motor blog hop and I couldn't be more excited to share with you yet another awesome fine motor activity! And we've had some good ones over the past year! Be sure to check out Lalymom's Fine Motor Fridays Classics to Celebrate Our Anniversary!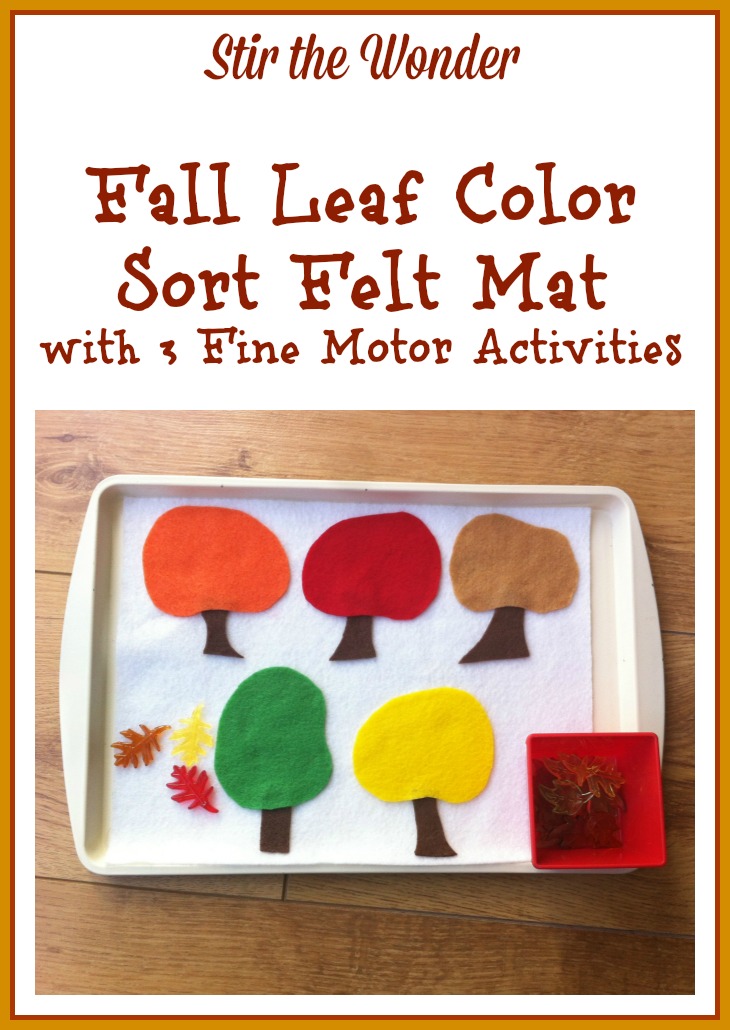 I made this fun Fall Leaf Color Sort Felt Mat to use with our plastic table scatter leaves as a sorting activity. Unfortunately I don't have any good pictures of Caden sorting leaves on this felt mat because this just isn't his idea of fun! But I did come up with three fun fine motor activities that can be done
with this mat!
But first you'll have to make one and to do that you'll need the following supplies:
scraps of colored felt to create the trees

scissors
This felt mat is really easy to make. I love working with felt because it doesn't fray and it's cheap, so if you mess up you can simple start over! So to make this felt mat, I cut rounded tree shapes from the colors I wanted, then used brown scraps to create the tree trunks. I placed them on the sheet of white felt to see how it would fit, then glued them down with craft glue. Once it's dry it is ready for play!
Supplies needed for activities:
tweezers

chopsticks

playdough
The first way you can play with this felt mat is great for toddlers who haven't mastered using tweezers yet. They can simple use their pincer grasp to pick leaves out of the cup and place them on the corresponding tree.
For preschoolers with more advanced fine motor skills, they can practice picking the leaves out of the cup using tweezers or chopsticks!
A third way to play with this mat incorporates sensory play. You can hide the leaves in a ball of play dough and ask your child to search through the play dough and dig the leaves out. Then they can sort them on to the tree with a matching color. Caden was most interested in this way to play!

Happy Fine Motor Friday!

Be sure to check out these great fine motor ideas from my co-hosts!
Fine Motor Pumpkin Patch from House of Burke
Salt Painting from Powerful Mothering
Googly Eye Pumpkins from Craftulate
Lion's Mane Cutting Activity from School Time Snippets
Simple Fine Motor Counting Math Tray from And Next Comes L
Spidery Fine Motor Activities from Little Bins For Little Hands
Jack-o-Lantern Geoboard from Still Playing School
Fine Motor Fridays Classics to Celebrate Our Anniversary from Lalymom
---
Our NEW 99 Fine Motor Ideas for Ages 1 to 5 is full of all types of enriching fine motor activities that your kids will love! And you will love them too because they are simple to set up and use everyday items you probably have around the house! Each activity includes full color photos, a materials list and step-by-step instructions. It's a fantastic resource for parents, educators, and caretakers!
For more ways to explore, play and wonder please follow Stir the Wonder on
Facebook , Twitter, Google + and Pinterest!
Save
© 2014 – 2017, Stir The Wonder. All rights reserved.