Using manipulatives is a great way to teach math in a hands-on way. We have a collection of different math manipulatives and one of the manipulatives we like to use are mini erasers! Mini erasers are easy to find and very affordable. Plus they are available in lots of different shapes to fit different themes which make learning math fun!
This post may contain affiliate links.
I've joined School Time Snippets for a series called Math Made Fun with Manipulatives with 20 other bloggers! The goal for this series is …
to make it known that math can be and IS FUN!!  Math doesn't need to be drill and kill through workbooks or expensive toys and now with summer break approaching for many school children, this is the perfect time to reinforce math skills in a fun, hands-on way.  So many math concepts can easily be taught with everyday manipulatives you have in your craft stash, kitchen, toy bins, etc!!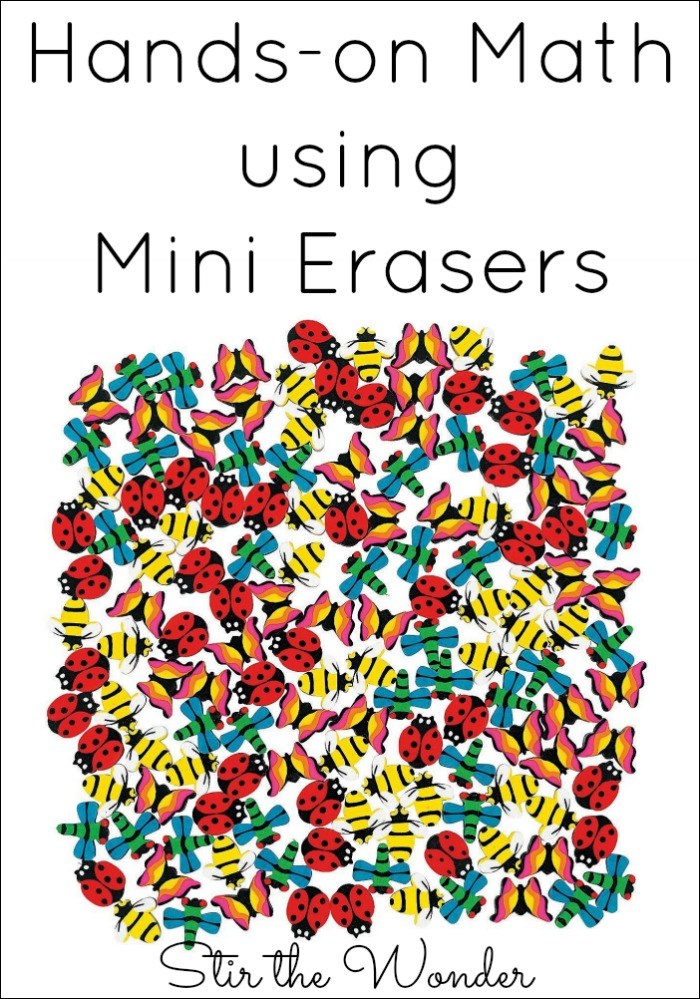 Math is fun! And I want to show you just how fun it can be to use mini erasers to teach math concepts to kids! Below are some creative ways to use mini erasers to teach math!
This Ladybug Math Grid Game uses mini erasers as game pieces for a simple game which reinforces counting and one-to-one correspondence for preschoolers!
This Beehive Fine Motor Activity & Counting Game we did for Pre-K Pages combines mini erasers and cereal into a sensory bin which is a totally fun way for kids to practice counting and one-to-one correspondence.
Cassie from 3 Dinosaurs shows some Fun Activities with Seasonal Erasers including shape matching and patterning. These types of activities can be done with any type of fun mini erasers! 
Other Math Concepts to Teach using Mini Erasers:
Graphing

Sorting by Attributes

Addition and Subtraction
Basically mini erasers can be used like any other math manipulative! What is your favorite way to use math manipulatives? 
© 2015, Stir The Wonder. All rights reserved.