We love this book Junk Yard by Mike Austin! It's a fun book to read and lends itself well to talking about
trash, recycling and going green! In the book these two Munching Machines eat up all the garbage in the junk yard and turn it into a fun park where kids can come and play! Ever since we first read it I thought it would make a great sensory bin so this past week after reading the book we spontaneously made some Munching Machines, put together this Junk Yard sensory bin and used it to play a fun counting game!
To make our Munching Machines we painted glue on two clean milk jugs and decoupaged tissue paper on the outside of the milk gallons. Tip: Filled the milk jugs with a bit of water to weigh them down. This helps with the painting and gluing.
After the glue had dried, I emptied the milk jugs of the water and carefully cut the opening for their mouths. Then Caden added the googly eyes using glue dots! I had envisioned creating much more elaborate Munching Machines, but we ended up keeping them simple. Kids have great imaginations anyway!
To create this sensory bin, you don't need anything special. I pretty much dug through our junk drawers for anything appropriate, and added some crumpled up receipts from the bottom of my purse! 😉 Then I went looking for more specific elements that are in the book such as fences and wheels. These I got from a cheap plastic 'Cowboys and Indians' set we have hanging around from the Dollar Tree.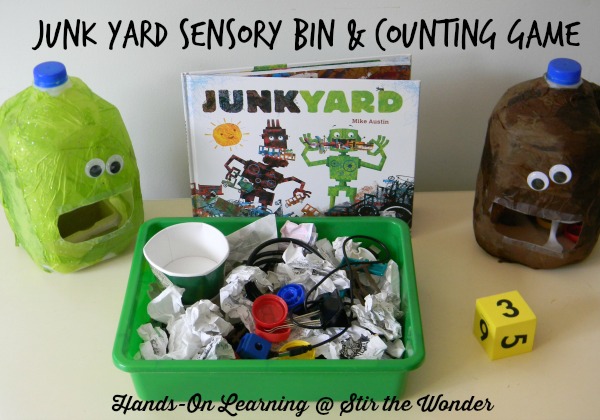 There are many ways you can play with this set up, Caden enjoyed simply playing with the junk yard and munching machines on their own. Then I though we could make it into a counting game by adding a large die, or even a deck of cards. Another idea to play and work fine motor skills would be to use tongs to pick up the junk and put into the munching machines mouth!
Looking for more Hands-On Play ideas? Link up and check out some great ideas below!
From my co-hosts!
Sensory Bottles | Galaxy In a Jar from Lemon Lime Adventures
And now for the Linky Party!
Disclaimer: By linking up you are granting me permission to feature your post using a photo with proper link back.
Save
© 2014 – 2017, Stir The Wonder. All rights reserved.