I'm always trying to think of fun and easy activities to set up for my son. This month for the Process Art Challenge, I set out some ink pads and bug stamps to let him create with this simple art medium.
This post contains affiliate links.
Supplies for Bug Stamp Process Art
How to Set Up:
Roll out some paper to cover your art surface and tape down the ends to hold the paper in place.

Set out some ink pads and stamps.

Invite children to get creative!
Tips for Stamping
If the stamp pad is a little dry or empty, use a little tempera paint! Squeeze it all over the ink pad and then spread it out with a sponge brush to even out the paint.
Show the kids how to use the stamps and get a good amount of paint on the entire stamp.
Not only is stamping an easy activity to set up and for kids to get creative with on their own, it also involves holding small objects just so and pressing with the fingers which is great for working on fine motor skills and strengthening.
Process Art Challenge
The Process Art Challenge was started to challenge parents to provide different art materials to their children for free creative exploration. Process Art is about the process and not about the product.
Check out our previous challenges and more stamp process art ideas from other bloggers below.
Tissue Paper ~ Found Objects ~ Stickers ~ Paint ~ Clay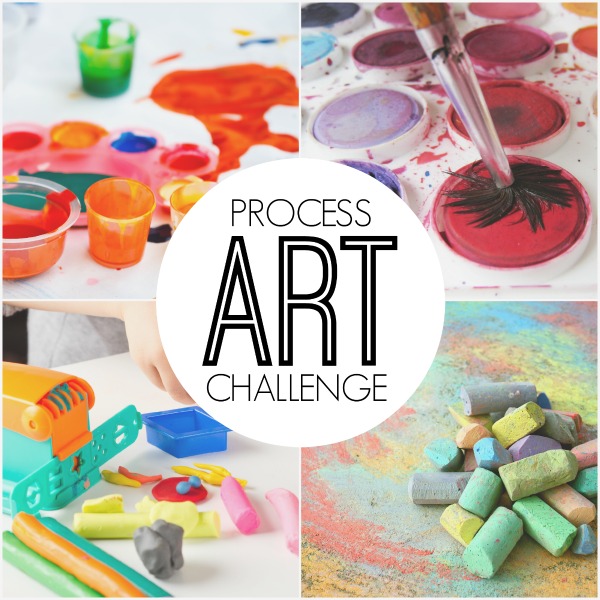 Stamping Circles with Toothpaste Caps from School Time Snippets
Stamps and Watercolors from Our Whimsical Days
Stamping with Shapes from Still Playing School
Stamping with Play Dough Tools (Process Art) from Powerful Mothering
Follow Samantha @Stir the Wonder's board Art & Crafts for Kids on Pinterest.
More from Stir the Wonder:
Please follow Stir the Wonder on social media:
Facebook, Twitter, Pinterest, Instagram
Save
© 2016 – 2017, Stir The Wonder. All rights reserved.