It's time for another Sensory Bin Challenge hosted by Little Bins for Little Hands! This months sensory material is sand! The premise of this challenge is to set up a bin of sensory filler such as rice or dirt and allow the child to lead the play instead of merely participating in the customary themed sensory bin.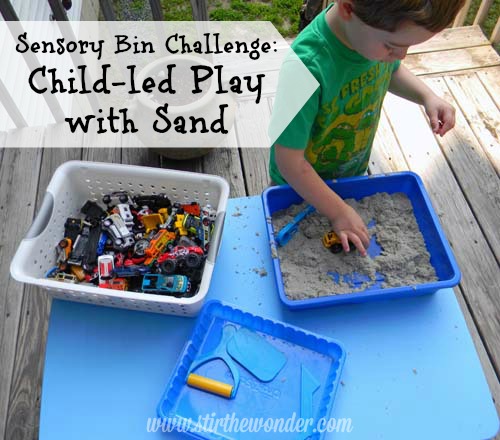 This month instead of playing with traditional sand, we did the challenge with Cra-Z-Sand. If you've read my recent 'Shiver Me Letters' Sensory Bin you'll know that I am not a fan of this Cra-Z-Sand, which is why we played with it outside, I am trying to get rid of it without throwing it away. Clean up was very simple, I just swept it off the table and deck, onto the ground below. 🙂
Despite my reservations about this stuff, Caden does enjoy playing with it and had a lot of fun with this challenge! First Caden simply played with the tools provided in the package of Cra-Z-Sand and explored the texture with his hands!
Then he requested some cars to play with. I brought his entire bin of cars outside and he chose which cars or trucks he wanted to play with. At first he used his construction vehicles to build "ramps" with the sand. Then he did "stunts" with his monster truck!
We noted the cool impression made in the sand with the monster truck tires and had a lot of fun with this child-led play with sand!
Little Bins For Little Hands ~ House of Burke ~Preschool Powol Packets ~Squiggles and Bubbles ~Life with Moore Babies ~Still Playing School ~ Teach me Mommy ~ Craftulate
Are you up for a challenge?! Join us next month as we challenge our kids to play with cloud dough!
© 2014, Stir The Wonder. All rights reserved.