I came up with this really cute craft! So I made it… myself… because Caden had absolutely zero interest in actually doing the craft, only squirting as much glue as possible on to his paper. That's the way it goes sometimes… But I wanted to share this craft anyway, because it is so cute and I know most kids would love creating it! So in honor of Springtime, which will get here eventually, here's a fun Beehive Craft for Preschoolers! Toddlers would probably enjoy it too!
 This post may contain affiliate links.
Beehive Craft for Preschoolers 
Supplies:
Instructions:
Squirt the glue all around the center of the white paper. Older children and kids not obsessed with squirting glue will be able to do this on their own. Younger children may need some help.

Stick the honey comb cereal to the paper, covering the gluey areas. I made a beehive pattern with my cereal. Younger kids' beehives should look more random and that's okay!

Place the bumblebee stickers around the honey comb cereal beehive.

Let the glue dry flat before hanging to make sure that the honey comb cereal sticks to the paper.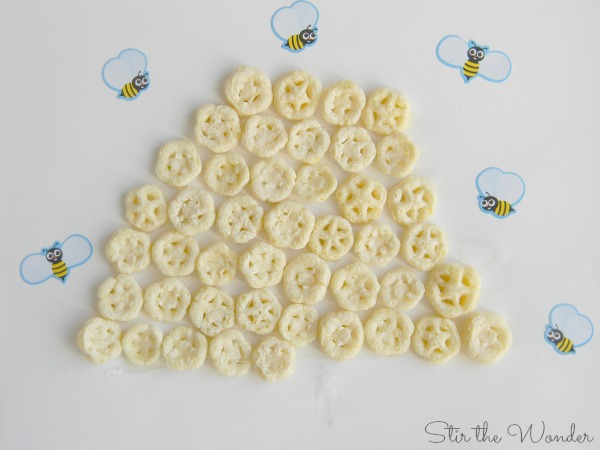 If you make this craft with your kiddos, I'd love to see it! Please share it with me on my Facebook page! 
For more Bee crafts and activities check out my Insect Theme board on Pinterest!
Follow Samantha @Stir the Wonder's board Insect Theme on Pinterest.
Save
© 2015 – 2017, Stir The Wonder. All rights reserved.