Looking for an apples fine motor activity for your kids? Bobbing for Apples is a fun sensory and fine motor activity for toddlers and preschoolers! By using a few household items young children will have fun working on hand strengthening with this fall themed activity!
This post may contain affiliate links.
Bobbing for Apples Fine Motor Activity
Supplies:
bowl or other container of water

empty bucket
How to Set Up & Play:
To set up the bobbing for apples fine motor activity is quick and easy. Gather the supplies, then fill one container with enough water for the apples to float and place it on the activity table. (We did this activity outside so splashes wouldn't make a mess inside.)
Next add the styrofoam apples to the container of water. Then place the mini tongs and empty bucket next to the bobbing apples and invite the children to come take a turn at getting the apples out of the water using the tongs.
Besides being a great apple themed activity for preschoolers to work on fine motor skills, kids can also work on counting skills with this activity by counting the apples as they take them out and place them into the bucket. It is also a simple sensory play activity and would be a great addition to an outdoor play kitchen or mud kitchen!
Literature Extension
Books are a great way to extend the activity by learning more about apples! Here are some great children's literature to incorporate into this activity!

Looking for more apple activities? Check out these amazing 26 apple activities for kids from toddlers to early elementary age!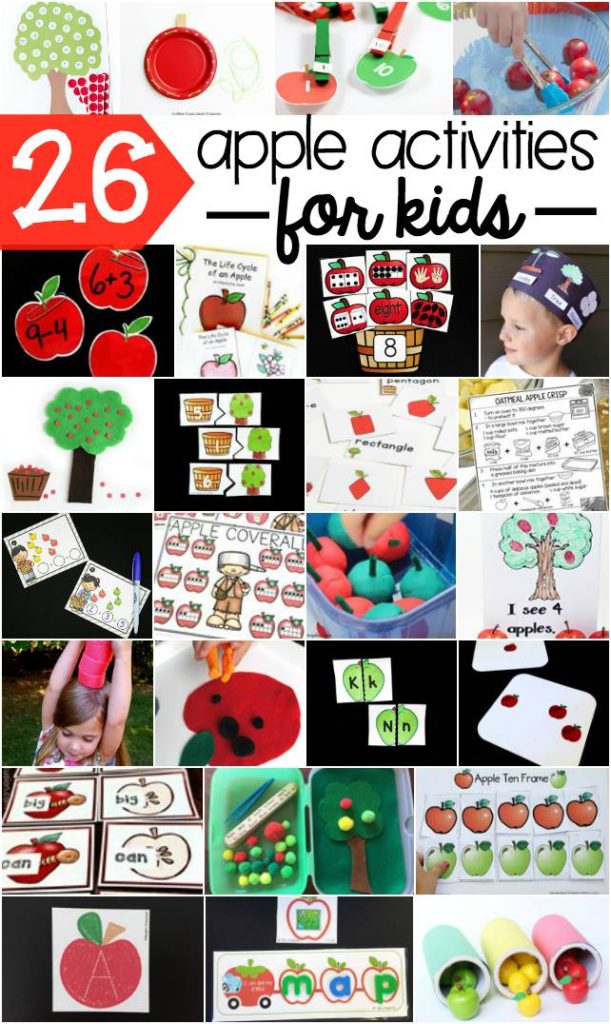 FROM LEFT TO RIGHT:
Letter Matching Apple Tree Activity // Mom Inspired Life
Apple Lacing Fine Motor Bag // Coffee Cups and Crayons
Kindergarten Math Activity: Apple Matching Game // Schooling a Monkey
Bobbing for Apples Fine Motor Activity // Stir the Wonder
Write and Wipe Math Cards | Bobbing for Apples // Science Kiddo
Apple Life Cycle Printable Book // Stay at Home Educator
Apple Number Match // A Dab of Glue Will Do
Apple Life Cycle Hat // The STEM Laboratory
Fine Motor Strengthening Apple Activity // Sugar Aunts
Apple Tree Counting Puzzles // The Kindergarten Connection
Apple Shape Matching Game // Life Over Cs
Oatmeal Apple Crisp: A Recipe for Kids // Liz's Early Learning Spot
Apple Addition Write and Wipe Cards // Playdough to Plato
Johnny Appleseed Apple Coverall Games // Recipe for Teaching
Apple Play Dough Surprise Activity // Play & Learn Every Day
Apple Counting Book // Fun-A-Day
Balancing Apples Up on Top // Sara J Creations
Apple Seed Counting Busy Bag // Powerful Mothering
Apple Alphabet Puzzles // The Letters of Literacy
Apple Subitizing Cards // The Simplified Classroom
Editable Apple Sight Word Game // DIY Farm Wife
Apple Tree Busy Box // Teach Me Mommy
Apple Ten Frames // Still Playing School
Tracing Letters Printable Apples // Modern Preschool
CVC Spelling Mats // Fairy Poppins
Apple Color Matching Activity // Frogs Snails and Puppy Dog Tails
Like this fine motor activity? There's more just like it in our two fine motor books! Click the image below for more information!
© 2016 – 2017, Stir The Wonder. All rights reserved.