This year I'm so excited to be joining the 12 Months of Sensory Doughs blog hop hosted by Lemon Lime Adventures! Each month on the 12th a group of creative bloggers will share unique ways to play with different sensory doughs. I'll be focused on keeping these sensory doughs simple by using a few everyday items or toys for play. I also may include children's books to inspire learning and creativity.
Snow Dough | Scented Dough | Sparkle Dough | Clean Mud | Salt Dough | Fizzy Dough | Sand Dough | Play Dough | Oobleck | Soda Dough | Cloud Dough | Edible Dough
This post may contain Amazon Affiliate links for your convenience.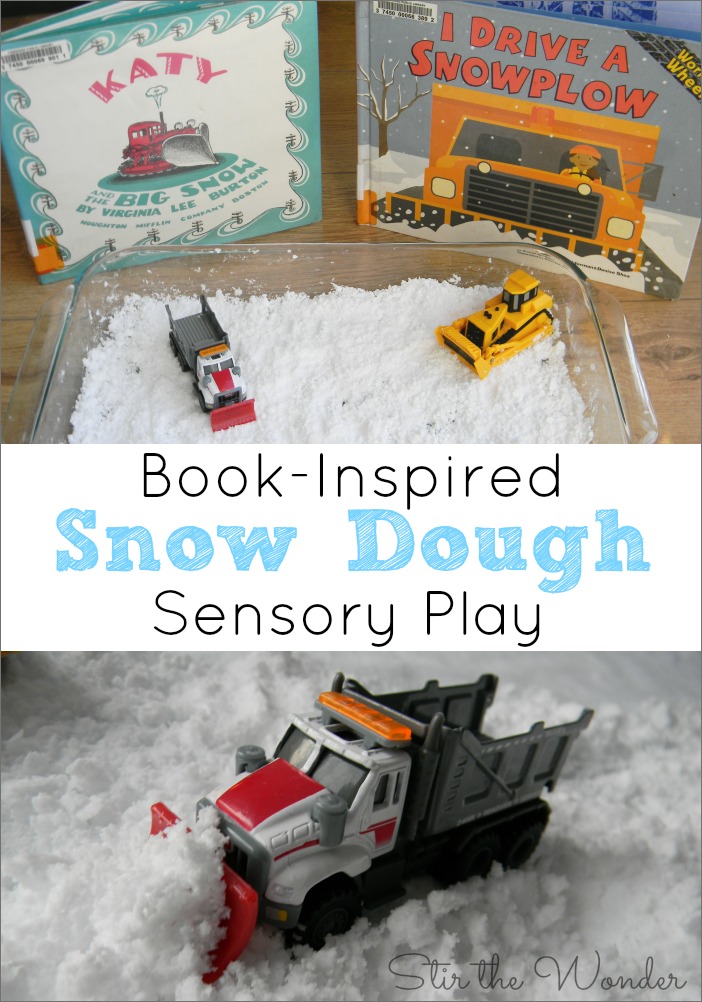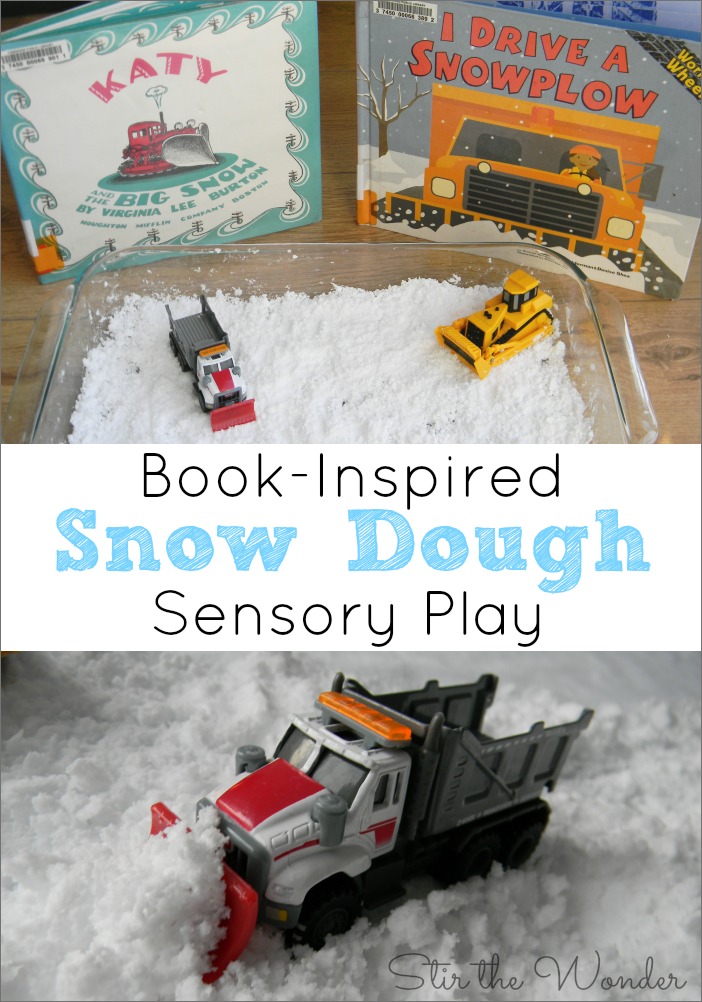 Snow Dough Sensory Play
This month's sensory dough is snow dough. Snow dough can be any kind of sensory dough that looks like snow! I chose to make my snow dough using baking soda and a little bit of water. Once it is all mixed up it feels just like real snow! It's cold and packs together nicely to create snowballs! I love it because it only uses two ingredients, is so simple to make and inspires lots of creative play! You can find a simple recipe at Learn~Play~Imagine, plus ways to fancy it up a bit!
To make this simple Snow Dough Sensory Bin I covered the bottom of a large glass casserole dish with baking soda, then I added a little bit of water. I didn't even measure because you really can't mess this up. If your snow dough is too muddy and you added too much water, add a little more baking soda. If your snow dough seems too dry, add a little more water. Once my snow dough was all mixed up to just the right consistency (clumpy and moldable) I put it in the fridge to chill until Caden was ready to play!
I kept this Snow Dough Sensory Bin simple by adding a couple of snow plows and a bulldozer (something we see around here to remove a lot of snow!). Caden dug right in and got busy plowing the snow into little piles with his trucks. Then he made some snowballs and we molded the snow dough into city buildings inspired by the books I read while he played.
To make sensory play more educational I like to include books with them. With this sensory activity I read the books Katy and the Big Snow by Virginia Lee Burton and I Drive a Snowplow by Sarah Bridges.
Other Winter-inspired sensory play ideas from Stir the Wonder:
Please check out more fun ways to play with Snow Dough from my co-hosts!
Experimenting with Snow Dough | Lemon Lime Adventures ~ How to Make Snow Dough (Taste Safe) | Powerful Mothering ~ Snow Fairy Small World with Snow Sensory Dough | Still Playing School ~ Snow Dough Science | Raising Lifelong Learners ~ Frozen Snow Dough | Sugar Aunts ~ Edible Snow Dough | Wildflower Ramblings ~ Vitamin E Snow Dough Recipe | FSPDT ~ Rubbery Marshmallow Play Dough | Therapy Fun Zone ~ Snow Dough & Outdoor Play | Peakle Pie ~ Music Inspired Snow Dough | Witty Hoots Glittery Snow Dough | In The Playroom ~ Arctic Small World Snow Dough | Best Toys 4 Toddlers ~ Snow Dough Frozen Inspired Small World | Preschool Inspirations ~ Sparkly Taste Safe Snow Dough for Toddler & Preschool Sensory Play | Bare Feet on the Dashboard ~ Fizzy, Frozen Snow Dough | It's A Long Story ~ Frozen Inspired Snow Dough | The Pleasantest Thing ~ A Snowy Day Snow Dough Play | Natural Beach Living ~ Arctic play snow dough & fizzing science | Glittering Muffins

Follow Dayna | Lemon Lime Adventures's board Sensory | Dough Recipes on Pinterest.


Save
© 2015 – 2017, Stir The Wonder. All rights reserved.