Do you know a child who finds mythical monsters fascinating? Particularly Bigfoot, Sasquatch or the Yeti? My son is one of those kids who can't get enough of these imaginary creatures! We've checked out every book our library has to offer on this subject and today I'm sharing some of our favorite ones!
Books for Kids Fascinated by Bigfoot, Sasquatch & the Yeti
This list contains books about bigfoot, Sasquatch or the yeti in a few genres. Some books are more nonfiction is style, although I'm pretty sure these creatures are all made up. The rest of the books are fictional picture books, readers and chapter books. All these books are great for getting kids interested in reading!
Picture Books
Larf is a fictional picture book about a lonely Sasquatch who goes on an adventure to find another Sasquatch he can be friends with. It's a cute little story for the smallest kids with this big fascination!
Monsters are Real! is a fun illustrated book for kids with real facts about monsters of all kinds including the Sasquatch and yeti!
Don't Squash the Sasquatch and Don't Splash the Sasquatch are cute picture books about Senor Sasquatch and his adventures in the real world.
The Boy Who Cried Bigfoot is a fun twist on the classic story, The Boy who Cried Wolf, told in picture book format.
Spaghetti with the Yeti looks is a hilarious story rhyming picture book about a young explorer who sets out to find the yeti!
Yeti, Turn out the Light! is a bedtime story about a yeti who is afraid of the dark!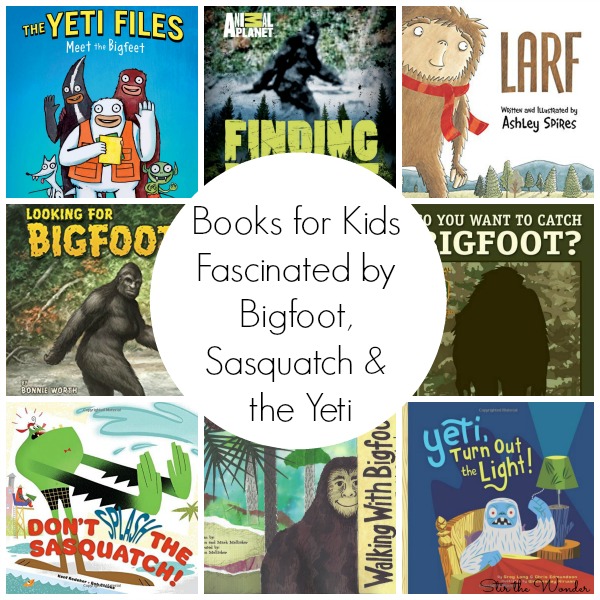 Chapter Books
The Yeti Files: Meet the Bigfeet is an illustrated chapter book, similar to a graphic novel or comic book about family of big footed creatures including a yeti, a Sasquatch and a bigfoot. This first book in the series is hilarious and great for beginning readers who still like pictures in books.
The Sasquatch Escape is the first book in the Imaginary Veterinary series. It's a wonderful chapter book with some illustrations about two friends and their adventure to catch the escaped Sasquatch! We loved reading this book and it is great for kids ready to listen to longer read alouds!
Nonfiction Books
Finding Bigfoot is based of the popular Animal Planet show of the same name. It is full of information from the show's experts about the elusive creature including photos and illustrations!
Looking for Bigfoot is a non-fiction, level 4 reader that examines the evidence, explores the folklore and looks at the science around the Sasquatch.
So You Want to Catch Bigfoot? is a nonfiction book tie in to the book and movie by Megan McDonald Judy Moody and The Not Bummer Summer. It's a field guide to finding and catching a bigfoot!
Walking with Bigfoot: A Beginners Guide to Common Trees of North America is a book I spotted on The Little Naturalist Instagram account and I knew I had to include it in this book list! It looks like an amazing book to teach bigfoot enthusiasts all about trees! I can't wait to check it out!
Are your kids just as interested in bigfoot as mine? If so, you'll want to check out these other fun stuff I found!


Save
© 2016 – 2017, Stir The Wonder. All rights reserved.