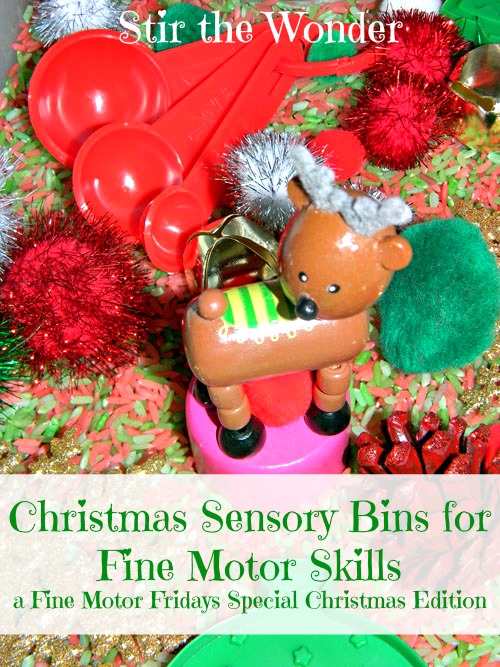 Christmas Sensory Bins for Fine Motor Skills
Welcome to the Fine Motor Fridays: Christmas Round Up Edition! The Fine Motor Friday Gals and I are doing something a little different this week! Each of us is creating a Christmas themed round-up of specific fine motor activities. I have decided to collect some of the best Christmas sensory bins for fine motor skills! These will be a fun way for kids to develop their skills! Be sure to check out the other fine motor Christmas round ups at the end of this post! 
1. Christmas Small World Construction Site from Sow Sprout Play- I love this sensory small world bin and I know Caden would too! It has many of our favorite things in it- hot chocolate, construction vehicles and Christmas! Rolling the trucks around the hot chocolate cloud dough and picking up the ornaments would provide great fine motor practice as well as some tactile sensory input.
2. Christmas Sensory Bin & a Sticky Tree from How Wee Learn- This is a fun sensory bin with a sticky Christmas tree in the middle. Sticking fun Christmas decorations to the tree would be a great way to practice fine motor skills!
3. I like this mini Christmas tree in a sensory bin filled with split peas and mini ornaments on Totally Tots. Caden really enjoyed decorating his mini tree this year and would totally love this sensory bin!
4. This Christmas sensory bin from Glittering Muffins is great for fine motor skills. They included all sorts of small things as well as containers to put them in and tongs to use.
5. Four Little Piglets put together a really great Christmas sensory box. They included artificial snow, spoons, cups and containers as well as little pom poms and other Christmasy stuff!
6. We Can Do All Things shares a simple Christmas sensory bin made with packing peanuts and whole pecans. They worked some fine motor skills into their play by scooping and sorting the nuts into bowls, ice-cube trays and a box with a holes on top.
7. Last year in our Christmas Peppermint Sensory Bin I included lots of ways to work Caden's fine motor skills. There are spoons of different sizes and a pitcher and mini stocking to pour the rice and other things into. I also included small toys to play with including a reindeer finger push puppet.
8. This Snowy Christmas Tree Small World scene from Buggy & Buddy includes all kinds of fine motor fun! From the loose parts and small animals to the play dough and felt Christmas trees with little felt ornaments this sensory scene is full of fine motor goodness!
9. The Christmas Slime for Sensory Play from Craftulate is the ultimate Christmas sensory experience. Georgina added some Christmas scent in the form of cinnamon and peppermint and her son enjoyed mixing up the red and green slime with different utensils!
Happy Fine Motor Friday!
Go check out these great fine motor ideas from:
Fine Motor Christmas Art Projects – Lalymom
30 Christmas Play Recipes – Craftulate
Christmas Tree Geoboard & 24 More Fine Motor Christmas Tree Activities – School Time Snippets
  Christmas Fine Motor Play Preschool Skills Round Up– Little Bins for Little Hands
Kid-Made Ornaments– P is for Preschooler
Snowflake Light Table Play & 14 Other Christmas and Winter Fine Motor Light Table Ideas – And Next Comes L
Montessori Fine Motor Christmas Ideas – Racheous
 To stay up to date on previous Fine Motor Friday posts
be sure to follow all of us on our NEW
Fine Motor Fridays Pinterest board!
For more ways to explore, play and wonder please follow Stir the Wonder on Facebook &  Pinterest!
Save
© 2013 – 2017, Stir The Wonder. All rights reserved.