Happy Super Bowl Sunday! Whether you are cheering on the Patriots or the Seahawks or not, you can still turn this popular American sport into a hands-on learning activity with this simple file folder game for kids I called Football Math Bowl!
The Hands-On Activities for Kids Monthly Link-Up is a place to stop by every month to share your hands-on learning activity posts! Brought to you each month by Stir the Wonder and Enchanted Homeschooling Mom.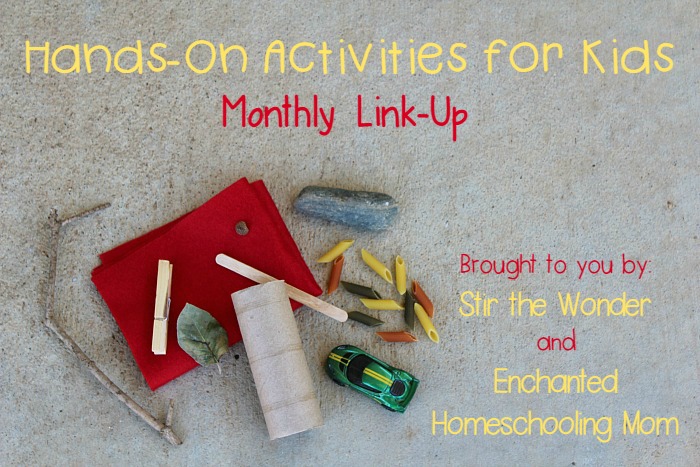 The Football Math Bowl is a fun file folder game that would be perfect for preschoolers and kindergarteners to reinforce counting skills, as well as social-emotional skills such as taking turns, sportsmanship and perseverance. With a few supplies you can make your own football file folder game and host your own Superbowl! 
Supplies Needed
file folder

green construction paper

2 other colors of paper for the end zones

glue stick

silver metallic marker

ruler

scissors

two or more football player figures (ours are McDonald's Happy Meal toys)

die
To make this football file folder game I first trimmed my green paper to fit in the file folder and glued it down. Then I used my ruler to measure for the lines. Starting at the center (50 yard line) I measured in one inch increments for the 40, 30, 20 and 10 yard lines on either side of the center line and drew the lines with silver metallic marker. Then I cut a strip of blue and red paper for the end zones on either side of the field, labeled them 'HOME' and 'VISITOR' with my silver metallic marker and glued it down. I also used white paper and markers to draw a circular emblem to glue in the center of my field.
How to Play
To play the Football Math Bowl file folder game, each player chooses a football player game marker and places their game markers at opposite ends of the field. Then each player takes turns rolling the die and moving the pieces across the field. The first player to reach their end zone and scores a touchdown wins! This is a very simple way to play, but I'm sure you could make it more challenging for older kids. 
Caden was excited to play with his Dad last weekend, but needs to work on his turn-taking and sportsmanship skills. Even though this is a very quick game, he just didn't have the patience to play at that time.
---
Check out this adorable Felt Valentine Math Mat for holiday learning on the go from my co-host Enchanted Homeschooling Mom!
---
Welcome to the Hands-On Activities for Kids Monthly Link-Up Guidelines! Please make sure to link directly to your post (not your main blog page) so we can all enjoy learning about your hands-on learning activity post that you want to share.
If you would like to spread the love for this blog hop by adding a button to your site please visit HERE to grab the code! We have created a Pinterest Board so that we can share all of your creative and inspiring hands-on learning ideas and activities. Make sure to stop by and check it out HERE.
Please link up your hands-on learning posts below. Feel free to link up as many posts as you would like to both new and old!

Save
© 2015 – 2017, Stir The Wonder. All rights reserved.