As we dive deeper into our learning and understanding of early math concepts, I have started a collection of free and affordable math manipulatives to use with my preschool-aged son as we learn with hands-on math activities. It hasn't taken much money to collect these different math manipulatives. In fact most of our manipulatives are objects and toys we already had. We have just given them another purpose, the purpose of hands-on math learning! 🙂 In this article you will get some ideas for objects to use as math manipulatives, as well as some ideas for how to use them and store them!
This post may contain affiliate links. 
The Hands-On Activities for Kids Monthly Link-Up is a place to stop by every month to share your hands-on learning activity posts! Brought to you each month by Stir the Wonder and Enchanted Homeschooling Mom.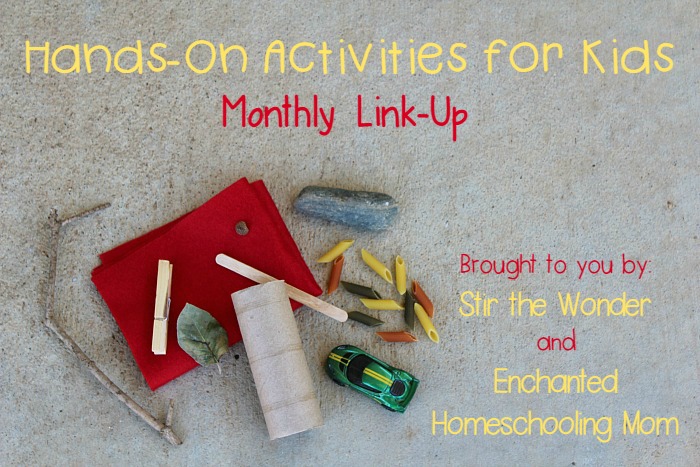 Free Math Manipulatives
There are many options for obtaining math manipulatives for free! One of the best ways to start collecting is through recycling or upcycling! Another way to get items for math manipulatives is to head outside and collect natural objects! Here is a list of ideas to collect:
Nature Manipulatives & Activities 
Recycling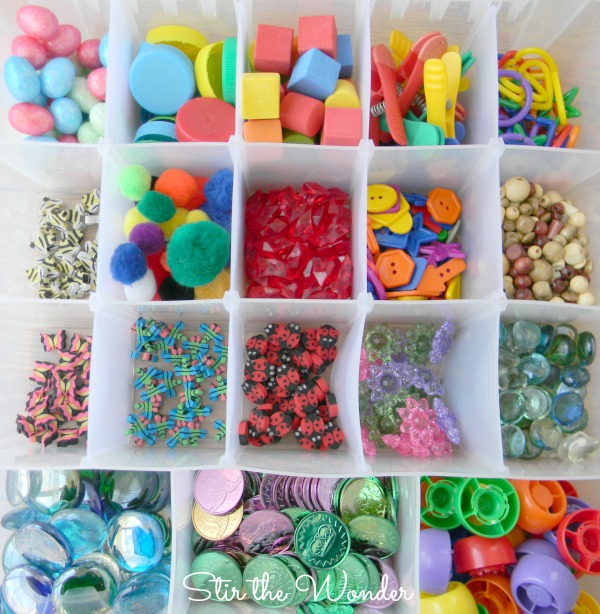 Affordable Math Manipulatives
I have also been collecting affordable math manipulatives from The Dollar Tree, Target Dollar Spot and Oriental Trading! These three stores always have an assortment of small objects that are perfect for using with hands-on math activities! Check out this list of cheap math manipulatives! 
Toys as Math Manipulatives
Small toys also make great math manipulatives! Some popular items I've seen used include Duplos, LEGOs, cars, and animal figures. Below are some great ideas using toys for learning math!
Food as Math Manipulatives
Another fun item I like to use occasional for hands-on math activities is food! Sugary cereals and candy are always a special treat in our house and make great math manipulatives! Dyed pasta and beans also make great math manipulatives! Below are some fun ideas for using food for learning math!
How to Store Math Manipulatives
I store many of our math manipulatives in this divider box. This box is large enough to store a good amount of small objects and the dividers keep them all organized! I also keep more manipulatives in plastic baggies in a clear plastic shoe box container. Both of these options work well for us.
---
Welcome to the Hands-On Activities for Kids Monthly Link-Up Guidelines! Please make sure to link directly to your post (not your main blog page) so we can all enjoy learning about your hands-on learning activity post that you want to share.
If you would like to spread the love for this blog hop by adding a button to your site please visit HERE to grab the code! We have created a Pinterest Board so that we can share all of your creative and inspiring hands-on learning ideas and activities. Make sure to stop by and check it out HERE.
Please link up your hands-on learning posts below. Feel free to link up as many posts as you would like to both new and old!

Save
© 2015 – 2017, Stir The Wonder. All rights reserved.