Looking for a cute Christmas craft for toddlers or preschoolers that includes process art? This Gingerbread House Stained Glass Window sun-catcher with tissue paper is an adorable way to include process art in a child's Christmas craft. Read on for instructions.
This post may contain affiliate links.
Supplies Needed for Gingerbread House Stained Glass Window
paper plates
tape
scissors
How to Prep:
Cut center out of paper plates.
Cut contact paper into squares to fit over cut out paper plates. Two squares of contact paper is needed for each sun-catcher.
Cut tissue paper into little squares.
How to Set up for Kids:
Set out some green or red tempera paint for the kids to paint stripes on the paper plates to make them look like candies used on gingerbread houses. Set aside to dry.
Peel the backs off of contact paper, and place them sticky side up on activity table. Use a little tape to hold the contact paper in place while kids get creative.
Put out a container of tissue paper squares and invite children to stick tissue paper onto contact paper.
How to assemble Stained Glass Window Suncatchers: 
Once the kids are finished sticking the tissue paper squares on the contact paper, stick another square of contact paper sticky side down so both sides are smooth, then cut off excess contact paper to fit the paper plates.
When you have the contact paper trimmed, use tape to attach the colorful contact paper to the paper plates.
Display the Gingerbread House Stained Glass Window sun-catchers in a window by using tape to attach to glass.
Read some of these wonderful children's books to go along with this art project!
More Process Art Challenge Ideas!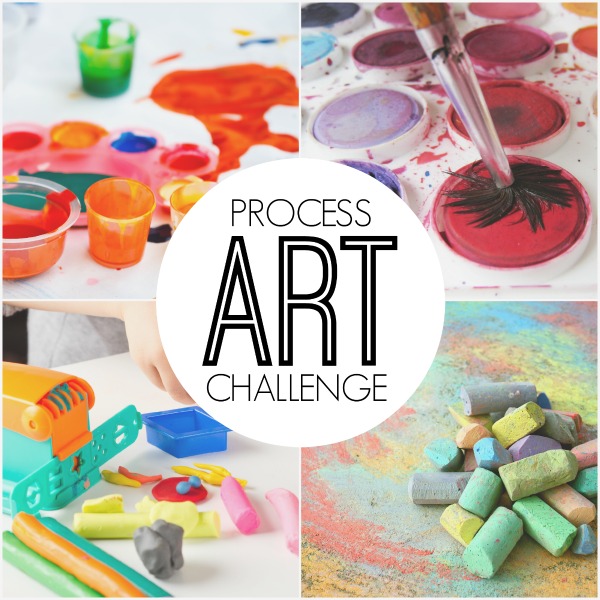 Tissue Paper Ornaments from Craftulate
Tissue Paper Filled Ornament from School Time Snippets
Polar Themed Process Art from Still Playing School
Spinning Top Process Art from P is for Preschooler
Follow Samantha @Stir the Wonder's board Art & Crafts for Kids on Pinterest.
More from Stir the Wonder:
Please follow Stir the Wonder on social media:
Facebook, Twitter, Pinterest, Instagram
© 2015 – 2017, Stir The Wonder. All rights reserved.