Welcome to month three of the 12 Months of Sensory Doughs blog hop hosted by Lemon Lime Adventures! Each month on the 12th a group of creative bloggers will share unique ways to play with different sensory doughs. I'll be focused on keeping these sensory doughs simple by using a few everyday items or toys for play. I also may include children's books to inspire learning and creativity.
Snow Dough | Scented Dough | Sparkle Dough | Clean Mud | Salt Dough | Fizzy Dough | Sand Dough | Play Dough | Oobleck | Soda Dough | Cloud Dough | Edible Dough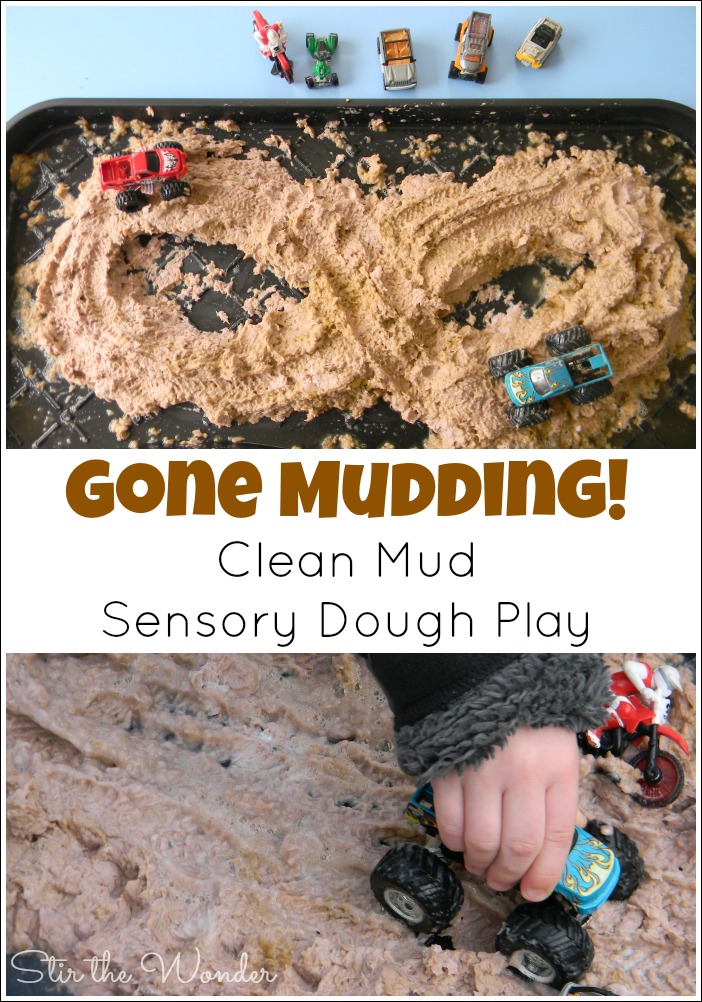 This post may contain affiliate links.
Clean Mud Sensory Play
This month's sensory dough is clean mud! Clean mud isn't exactly clean, but what sensory play activity isn't messy?! The neat thing about this sensory dough is that it uses soap, so it is really easy to clean up! To make clean up all you need is a bar of soap, a roll of toilet paper, a grater and water!
To make clean mud is so simple your kids will love to help! First you need to shred the toilet paper into pieces. I found this to be the most tedious job and Caden wasn't shockingly not really into helping me. Who knew it would take so long to shred a single roll of toilet paper? Hopefully you will have some willing participants to help you.
Next you'll need to grade the bar of soap. This was a much quicker job and Caden enjoyed helping!
Once the toilet paper was all shredded and the bar of soap grated, we then mixed it up with water in a bin. I added some brown tempera paint to give it a muddy color.
I set up the muddy clean mud outside in a boot tray and added some monster trucks and off-roading vehicles so Caden could drive them through the mud! This is a very relevant activity for us this Spring, as our dirt road is full of mud and bumps!
Some fun books to go with Gone Mudding! Clean Mud Sensory Play:
Please check out more fun ways to play with Clean Mud from my co-hosts!
How to Make Clean Mud Recipe (Taste Safe) | Powerful Mothering ~ Music Inspired Clean Mud | Witty Hoots ~ Clean Mud and Flowers| Peakle Pie ~ Clean Mud Bubble Dough | Bare Feet on the Dashboard ~ Clean Mud Sensory Tray | Creative World of Varya ~ Lego Clean Mud | Frogs and Snails and Puppy Dog Tail ~ Clean Mud  | In The Playroom ~ Clean Mud Fine Motor Gem Dig | Still Playing School
Follow Dayna | Lemon Lime Adventures's board Sensory | Dough Recipes on Pinterest.


Save
© 2015 – 2017, Stir The Wonder. All rights reserved.