Happy Fine Motor Friday! My co-hosts (

Lalymom

, 

Craftulate

, 

School Time Snippets

, 

Little Bins for Little Hands

, 

P is for Preschooler

, 

Racheous

, 

Still Playing School

, 

House of Burke

 and 

Powerful Mothering

) and I are excited to share fun activities for toddlers and preschoolers that help build fine motor skills every Friday. At the end of this post you will find links for more great fine motor activities from my co-hosts. Be sure to check them out!
This Ice Pick-Up & Pour fine motor and practical life activity came up back in January when we were doing a lot of playing with ice, (Snow & Ice Penguin Small World, Coloring Snow with a Dropper, Simple Play with Colored Ice Cubes). I say this activity "came up" because it was completely child-led. After our Melting Ice Cubes science experiment I gave Caden some kitchen utensils and containers to play with the leftover ice cubes however he wanted.  
 Caden ended up using a lot of fine motor skills during this free play activity. He used his hands to grab the ice from the ice cube tray, and he tried using the blue ice tongs to transfer the ice cubes from the white tray to the blue tray or into the glass measuring cup.
Then he practiced pouring the ice from the measuring cup into the snowflake muffin tray. He really enjoyed using the grown up kitchen tools and utensils. 
The blue ice tongs were a little tricky to work with and made it difficult to grab the ice cubes, so I gave him some grilling tongs. These worked much better as he transferred the ice cubes back and forth between the snowflake muffin tray and the glass measuring cup.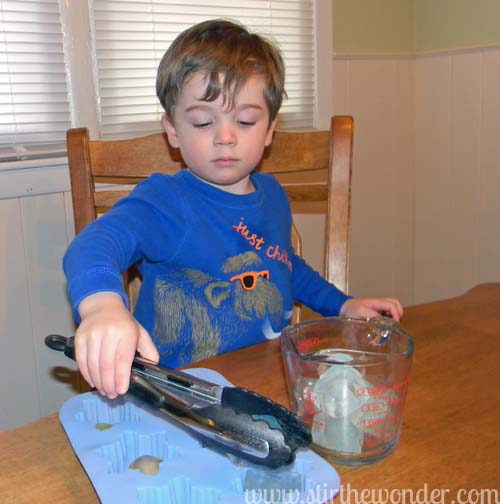 I loved watch Caden has he played and practiced his fine motor skills and practical life skills. This activity was completely child-led and held his attention for so long as he worked through how to work the utensils to transfer the ice cubes from container to container.
Happy Fine Motor Friday!

Be sure to check out these great fine motor ideas from my co-hosts!
Fine Motor Color Matching Bunny Tails from School Time Snippets
Easter Egg Fine Motor Fun with Pompoms from Craftulate
Leprechaun Bait from Still Playing School
St Patricks Day Finger Grasps Fine Motor Sensory Play from Little Bins for Little Hands
Really Quick Fine Motor Play from Powerful Mothering
For more ways to explore, play and wonder please follow Stir the Wonder on
Facebook, Twitter, Google + and Pinterest!
Save
© 2014 – 2017, Stir The Wonder. All rights reserved.