~Caden is 26 months old~
Caden saying the /h/ sound.
H is for Hammer is part of our Tools unit focusing on the letter 'H' and tool vocabulary. I used play dough and a mat (downloaded from 1+1+1=1, printed and laminated) to introduce the letter 'H'. I helped Caden create the letter using the play dough and then he hammered it. Caden enjoyed this part. I also emphasized the /h/ sound and Caden happily repeated after me.
Caden also used markers and dot markers to color the hammer pages from 1+1+1=1. Caden loves tools and really seemed to enjoy this unit. I had fun coming up with new activities for it too!
We read a couple of books with a tool theme, this week. One that Caden really liked was Bob's Toolbox Mix Up (affiliate link). It was all about Bob's missing hammer and it has fun lift flaps which helps keep wiggling toddlers busy while reading. We also read Curious George Plumber's Helper (affiliate link) which is a fun read too!
Be sure to check out other activities we did for our tools unit!
Practical Life & Sensory with Sawdust
Science: Sink or Float Experiment
For more Tot School ideas, please visit: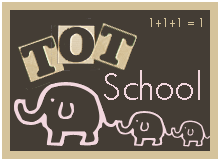 © 2013 – 2017, Stir The Wonder. All rights reserved.