LEGO Duplo Ring Toss is a fun game for kids to build for a summer carnival or just to play any day! With some basic LEGO® Duplo bricks and an everyday craft supply kids can create this simple activity!
This post contains affiliate links.
LEGO Duplo Ring Toss
LEGO Duplo Ring Toss is a fun game that kids can build and play! Learning can also be incorporated with this activity! Building Duplo towers and twisting pipe cleaners into rings is really good for fine motor skills. Preschoolers can practice counting how many rings they get on the Duplo towers. And by placing numbers on the Duplo towers, older children can add points and keep score. Remember, even if you don't have these exact LEGO® Duplo bricks you can always use what you have! Learning will take place anyway! 🙂

Supplies:
Pipe Cleaners

Duplo Plate

Duplo 2×2 Bricks (50+)
How to Prepare and Play:
To make the rings to toss, twist three pipe cleaners together and form a circle.

Create eight or more towers by stacking six or seven 2×2 Duplo bricks into a tower.

Attach the Duplo towers, evenly spaced onto the Duplo plate to make a ring toss stand.

Set the ring toss stand on the floor or low table.

Have the children take turns tossing the rings onto the Duplo towers.
Are you interested in more learning with LEGO® ideas?
Check out our new book The Unofficial Guide to Learning with LEGO®! In it are over 100 hands-on learning activities from literacy to S.T.E.A.M. using LEGO® bricks!
Be sure to sign up for our NEWSLETTER to stay up to date on all the book happenings and join our awesome Learning with LEGO Facebook group for more educational ideas using LEGO®!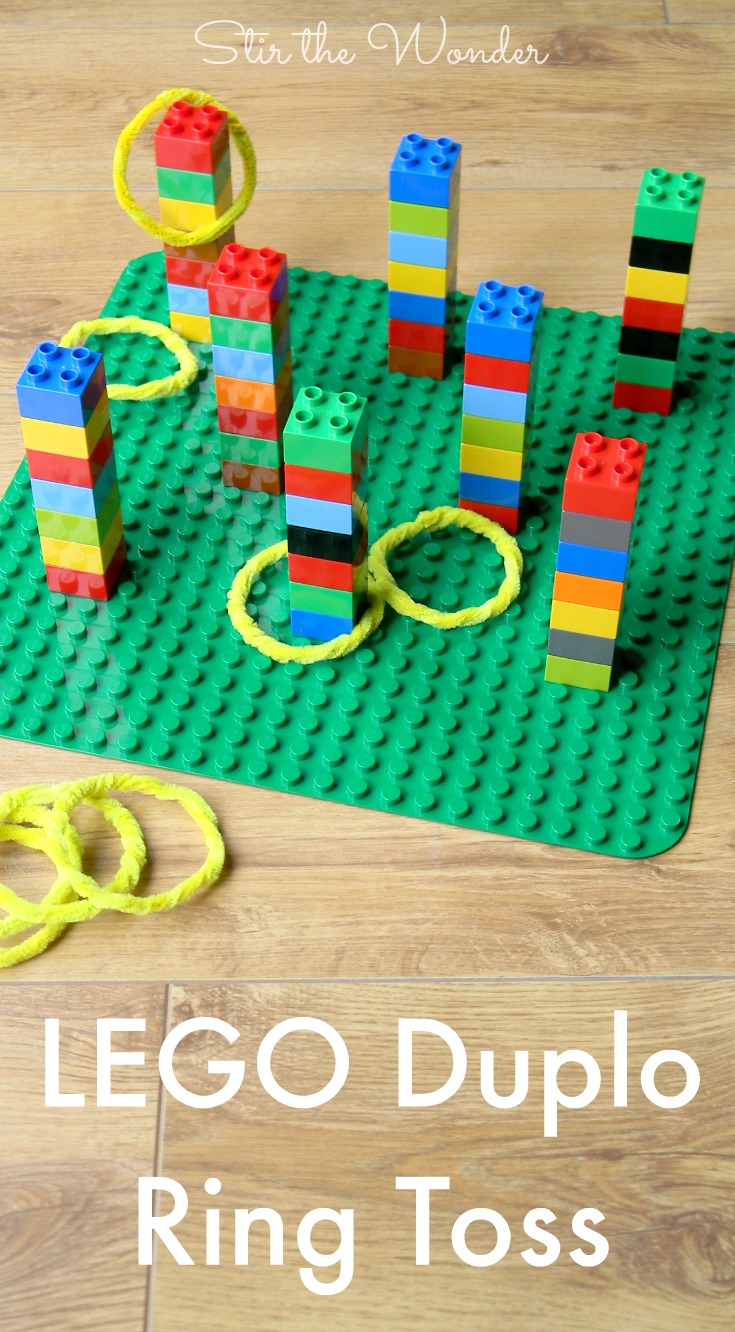 LEGO® is a trademark of the LEGO Group of companies which does not sponsor, authorize or endorse this site.
© 2016, Stir The Wonder. All rights reserved.