Looking for a simple winter themed number recognition and counting activity for your toddler or preschooler? Mitten Math is adorable and easy to set up! Plus it incorporates some fine motor work too! Complete the lesson with some fun picture books suggested at the end!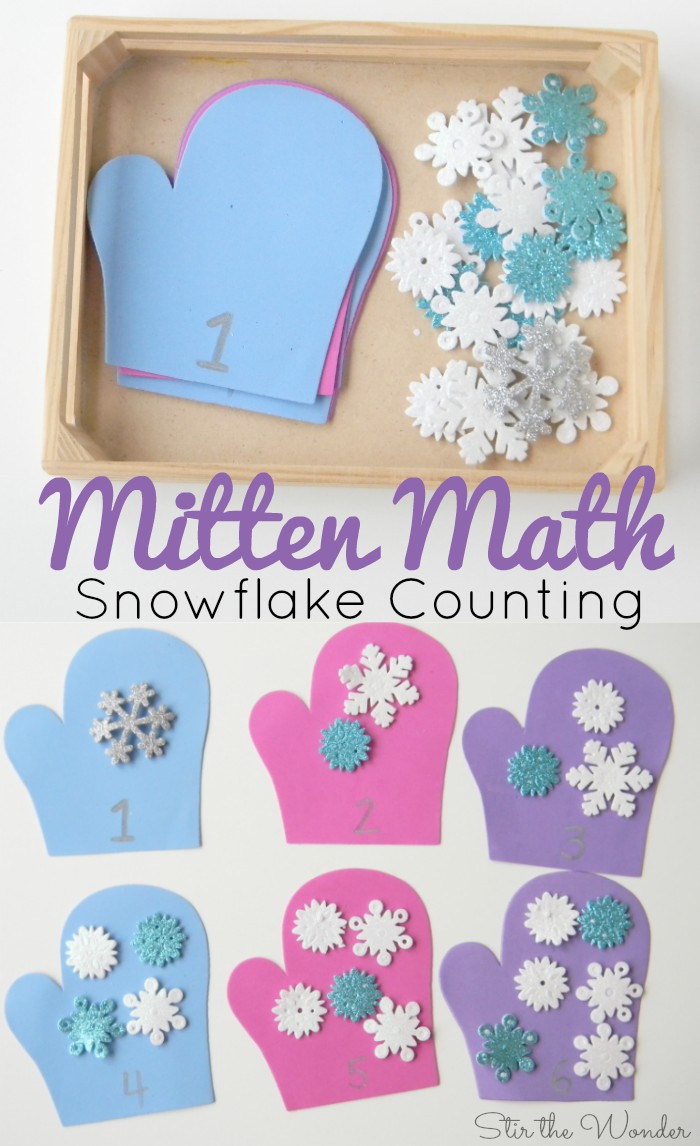 This post contains affiliate links.
Materials Needed for Mitten Math
craft foam mittens (from Target Dollar Spot, but simple enough to make it yourself)

permanent marker
To Prep:
To prepare mitten math, count out five to ten craft foam mittens and write numerals on the bottom using a permanent marker. Then count out enough foam snowflake stickers for each mitten. Arrange the foam mittens and snowflake stickers in a wooden tray as an easy invitation to play.
How to Play:
When your toddler or preschooler is ready for playful learning with Mitten Math have them take out all the mittens from the wooden tray and arrange them in numerical order. Younger children might need some help with this part.
Then they can decorate the mittens by counting out snowflake stickers and sticking them on the mittens to match the numbers. Removing the backs of the snowflake stickers is a great fine motor challenge for preschoolers.
Extension Activity
When all the snowflakes are counted out and the mittens are decorated, kids can get some more practice with putting numbers in order by hanging the snowflakes on a line and clipping them on with a clothespin. This is also another way for kids to work on fine motor skills!
Literature Extension
Make this a complete preschool lesson with some fun winter themed literature! Here are some fun books you can read to go along with this activity!
More Playful Learning Ideas from Stir the Wonder:
Follow Samantha @Stir the Wonder's board Winter on Pinterest.
Please follow Stir the Wonder on social media:
Facebook, Twitter, Pinterest, Instagram
Save
© 2015 – 2017, Stir The Wonder. All rights reserved.