I'm so excited to bring you Neverland Summer Camp again this year with some blogging buddies. With Enchanted Homeschooling Mom on the amazing graphics we put together an interactive calendar full of fun and educational activities. I scoured Pinterest looking for the best Sweet Treat activities for preschoolers. Many of these activities can be adapted for younger children too!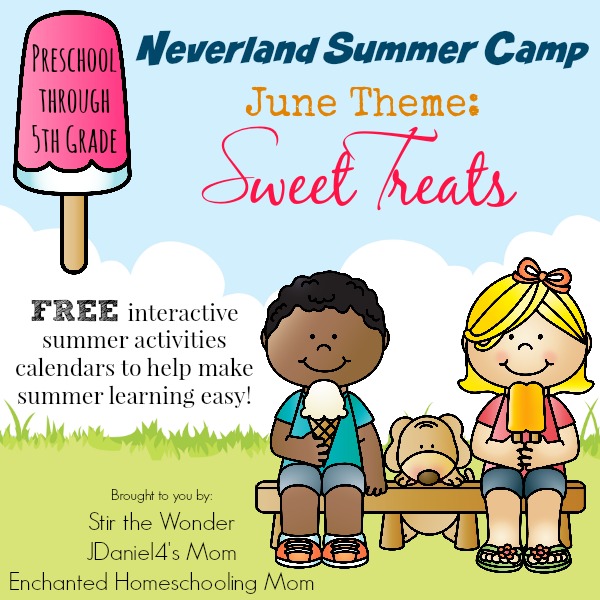 We took all the guess-work out for you this summer! Just download and save to your desktop or print a copy of our calendars for a fun-filled summer for your preschooler – eighth grader. Then each morning or the night before you can click the link to be taken to a blog or website where you will find supplies lists and/or instructions for a fun and educational sweet treat themed activity! Here is an example of what the calendar looks like (click image to download):
Bringing you all the summer learning fun for the Neverland Summer Camp is a team of your favorite Neverland friends. It is our pleasure to fly you each month to the second star on the right and into the Neverland Summer Camp. Provided below, broken down by grade level, is an interactive list of activities of a wide variety to suit hopefully everyone's needs as they participate, learn, and have fun here at the Neverland Summer Camp where learning is brought to you through fun activities, arts, crafts, reading, you name it. Let the magical summer learning fun begin!
JDaniel4's Mom: Kindergarten-2nd Grade
Enchanted Homeschooling Mom: 3rd Grade – 5th Grade
Make sure to visit the Neverland Summer Camp next month for a new FREE interactive activity calendar with a new theme for July.
Clip art by: Corazon Dulce, Clip Artopia, Whimsy Clips, Graphics From the Pond
Save
© 2015 – 2017, Stir The Wonder. All rights reserved.