Springtime always brings rain here in New England and with rain comes rainbows! This open-ended rainbow art activity for kids is an easy to set up project that is a great way for toddlers and preschoolers to learn about all the colors of the rainbow!
Open-Ended Rainbow Art Project
Supplies:
Prep Work:
To prepare this art project for toddlers or preschoolers, first cut some plain white paper plates in half. Cover the art table with newspapers or butcher paper. Then set out some paints and paintbrushes. Get the children in the aprons and let them explore all the colors of the rainbow!
Open-Ended Art
Open-ended art projects are a great way for kids to explore different mediums and process art. For this project we explored all the colors of the rainbow and what happens when they all get mixed up together. The only limits I set up for my son was the half-circle shape of the paper plate. Other than that I let him have a free reign of his choice of paint color and brushes.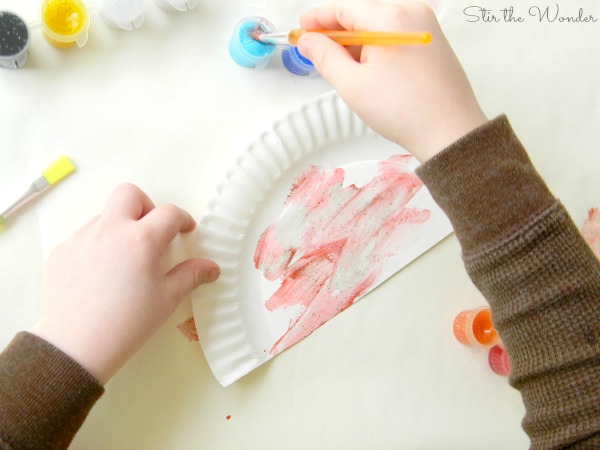 For this project my son enjoyed exploring and mixing the paint colors. He wasn't so concerned with painting the colors in the shape of a rainbow, but that's okay. He was just enjoying the process and learning about color mixing along the way. The process of painting is also a fun way to work on fine motor skills such as pencil grip.
The fun part about this project is that my son and I did it together! We love spending time together while working on personal art projects! I find that we both enjoy art or craft time more when we have our own projects to work on and I'm not hovering over him while he works. He sees me enjoying art and relaxes. He does not worry about making mistakes or getting messy, and actually has fun! This is what is so great about doing art together! 
Do you enjoy doing art activities with your kids?
For more simple art projects check out my Art & Crafts for Kids board on Pinterest!
Save
© 2016 – 2017, Stir The Wonder. All rights reserved.