Finding hands-on learning activities that are fun for kids can be a challenge at times. But I really enjoy that challenge. The latest game I've created for my son is really simple and perfect for LEGO loving preschoolers, and great for toddlers too!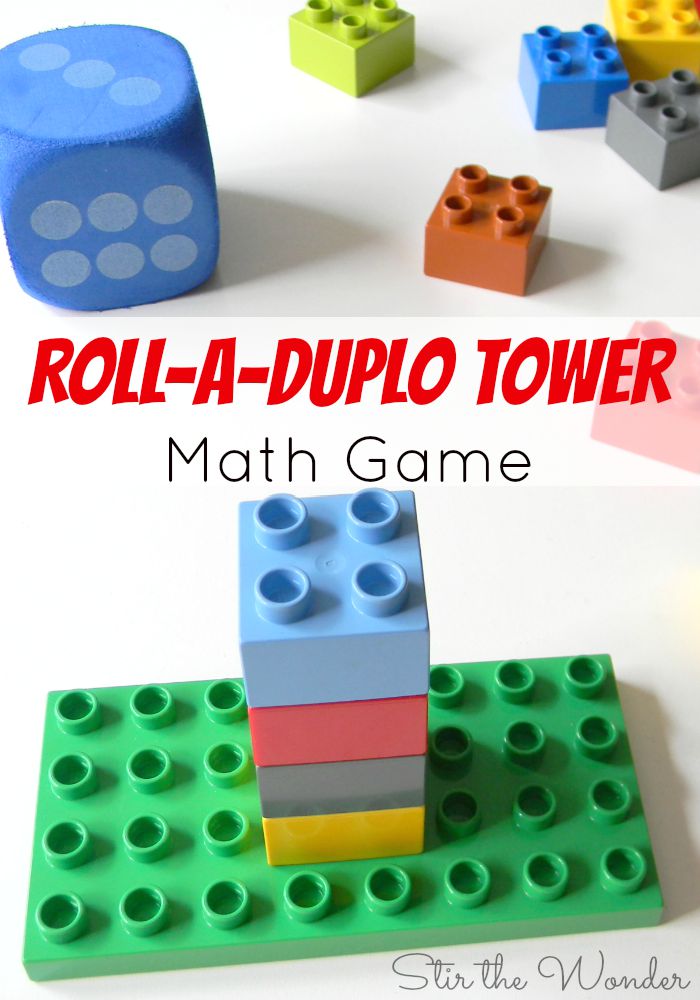 This post contains affiliate links.
Roll a Duplo Tower Math Game
Roll a Duplo Tower is a fun math game for toddlers and preschoolers to practice counting and fine motor skills in a playful way! With a set of basic Duplo bricks, some Duplo plates and a large die kids can race to build the tallest tower before the Duplo bricks are all gone! 
To set up this game is quick and easy! I pulled all the square Duplo bricks from our bin along with two small plates. Then I scattered them all over the activity table with a large foam die and invited Caden to try to build a taller tower than me! (Hint: a little playful competition is a great motivator for reluctant kids!)
To play Roll a Duplo Tower Math Game is very simple. Players take turns rolling the die, counting out their Duplo bricks and stacking them into a tower! The player with the tallest tower when all the bricks on the table are gone is the winner! 
Although my son didn't follow the directions to build a tall tower, he still got plenty of counting practice and gets bonus points for creativity! 
Are you interested in more learning with LEGO® ideas?
Check out our new book The Unofficial Guide to Learning with LEGO®! In it are over 100 hands-on learning activities from literacy to S.T.E.A.M. using LEGO® bricks!
Be sure to sign up for our NEWSLETTER to stay up to date on all the book happenings and join our awesome Learning with LEGO Facebook group for more educational ideas using LEGO®!
 LEGO® is a trademark of the LEGO Group of companies which does not sponsor, authorize or endorse this site.
Follow Samantha @Stir the Wonder's board LEGO Activities on Pinterest.
© 2015 – 2017, Stir The Wonder. All rights reserved.