Creating Snowball and Craft Stick Sculptures is a simple activity that kids will have hours of fun with on a snowy day! Playing with styrofoam snowballs and skinny craft sticks is a creative way for kids to work on fine motor skills! Read on for a supplies list and info on how to set up this play invitation!
This post contains affiliate links.
Snowball and Craft Stick Process Art Sculptures
Supplies Needed: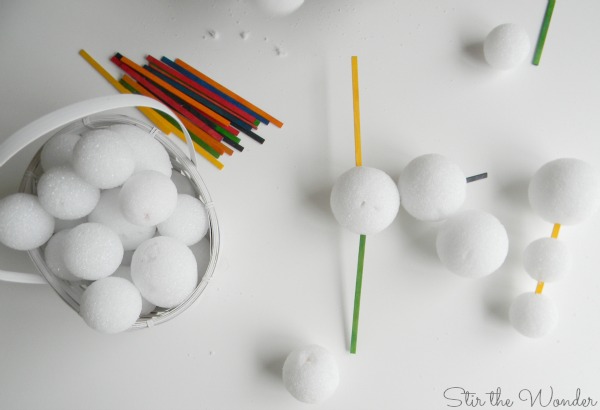 How to Set up Invitation to Create:
To set up this invitation to create for your kids or students is very easy! Set out a basket of styrofoam balls and a container of skinny craft sticks on your work surface and invite the children to build sculptures using only those two supplies by poking the craft sticks into the styrofoam balls.
This activity really appealed to my son's building interests and he loved the creative freedom this project afforded. We both sat down and created different objects such as snow blasters and imaginative snow monster figures using the styrofoam snowballs and skinny craft sticks! We really had a ball! (Pun intended! haha!)
All the while he was inadvertently working on hand-eye coordination, fine motor skills and strengthening needed for handwriting! I call that a win-win!
Literature Extension:
Complete this activity with some of these fun books about snowballs!
HAPPY FINE MOTOR FRIDAY!
It's good for toddlers and preschoolers to do a variety of fine motor activities. Having different activities help work different fine motor muscles and hand coordination which is necessary for handwriting. Fine Motor Fridays is all about giving you a bunch of ideas to do with your little ones!
Check out these great fine motor ideas!
Heart Flower Cards from Powerful Mothering
Valentine's Hearts Fine Motor Activity from And Next Comes L
Follow Laura @ Lalymom Kids Crafts & Activities's board Fine Motor Fridays on Pinterest.
Save
© 2016 – 2017, Stir The Wonder. All rights reserved.