One can never have too many art and craft supplies! This week we are sharing our top ten craft supplies! Since I already made a Arts & Crafts Wish List for preschoolers, this will be a list of our favorite craft supplies for toddlers!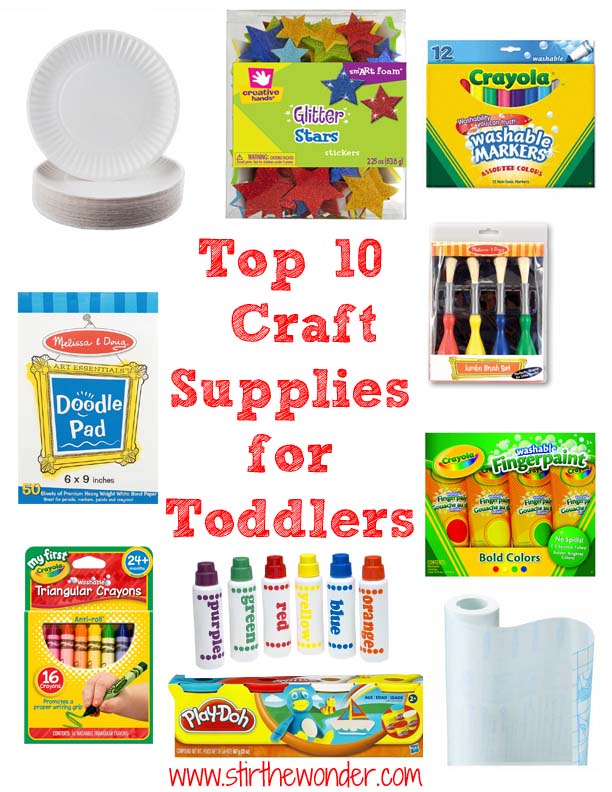 Craft Supplies for Toddlers
1. Triangular Crayons – These are great! The triangular shape promotes proper pencil grip and prevents the crayons from rolling off the table. These crayons are also washable which is a big plus in my book! Marks on the wall or table washes right off with water! 
2. Paint Brushes – These jumbo paint brushes by Melissa & Doug are great! The handles are rounded which makes it easier for young toddlers to hold and paint with.
3. Washable Markers – Washable markers are a favorite of toddlers! These Crayola markers are great with vibrant colors that last.
4. Dot Markers – We have these Do A Dot markers! Caden loved to bang these around on his paper. And they are great because he couldn't ruin the tip and are washable.
5. Foam Stickers– Foam stickers are great for little hands. They are thicker and larger than regular paper stickers and are easier to handle. They come in a great variety too! 
6. White Paper – White coloring paper is a craft staple. This paper from Melissa & Doug is a heavy weight paper which means it won't tear under hard scribbles or thick amounts of glue or paint.

7. Finger Paints – Finger paints are a great sensory material and it is non-toxic, so if some happens to find its way into your toddlers mouth, there is no need to panic.

8. Play Dough – Play dough is a must have for toddlers. Not only is it a creative way to play, but it is also a great sensory material and helps to develop fine motor skills.

9. Paper Plates – Basic paper plates are a great craft supply to have on hand for toddlers. You can create many cute projects with them and use them as a paint tray for easy clean up!

10. Contact Paper – Clear contact paper is a great craft supply. You can do so many fun projects with it! And it's great for toddlers who haven't gotten the hang of glue yet!
For more Top Ten Holiday Lists please check out these posts from my co-hosts!
Creative Kits for Preschool ~ Craft Supply Kits for Kids  ~ Top 10 Lists: Craft Supply Gifts for under 3 year olds ~ Top 10 Craft Supply Gifts for Preschoolers ~ Top 10 Craft Kits for Preschoolers ~Gifts to Feed Your Children's Passions
For more ways to explore, play and wonder please follow Stir the Wonder on
Save
Save
Save
© 2013 – 2017, Stir The Wonder. All rights reserved.