~Caden is 20.5 months~
The theme for Tot School this week was Apples again, although that really only pertains to our art projects and books.  This week went much smoother than last week.  I lowered my expectations of him and modified my plans a bit. I realized that Caden really needs three-dimensional, hands-on activities and is not yet ready for paper work or formal lessons.  I have also realized that Caden is young and still developing he is learning with pretty much anything that he does. So with that in mind I focused on providing him with activities that I know he enjoys.
I brought out all the empty containers and lids that I have collected and put them in one bin. Caden enjoyed matching up the lids to the correct containers and worked on screwing the lids on. I cut five holes into the butter lid and gave him some pom-poms. Caden really seemed to enjoy poking them into the holes, saying "boop!" each time he got one in the container.  I also gave him some straws to put into an empty parmesan cheese container.  These activities are great for working on his fine motor skills. Caden spent a good amount of time with this activity, Mama was very pleased!
During lunch and dinner I showed Caden some flashcards with 'A' words and pictures.  He was very receptive to this new activity. Usually meal times are just about eating. He was very interested in the 'ant', 'apple' and 'airplane' cards. He even hugged the 'ant' card. Caden is very lovable to all creatures. I think I will keep a stack of cards on the table from now on and we will use meal times to learn new vocabulary.
By midweek we got a little stir crazy, so we visited the library, playground and Grandma's house. Caden enjoys running around the playground. He has just about mastered the slide by himself and even surprised me by attempting to go down some stepping pods (I'm not really sure what they are called, but they are not stairs.) from the top of the play equipment. This scared me half to death, because he could have easily fallen, but his bravery was impressive. I'm sure the other moms there thought I was crazy!
We played outside at Grandma's house too! He has a motorized John Deere vehicle there which is loves to drive around the yard. Caden also dug in the dirt with his digger and drew a little with the side-walk chalk. Although he was mostly interested in dumping the chalk out and chasing the dog around.
To wrap up the week, we did some art projects and table activities. On Thursday we attempted apple stamping. Let's just say he was more interested in eating the apple! And I learned it probably isn't a good idea to do art projects that involve food as a tool or medium.
And on Friday, I sat Caden at the table with play dough while I attempted to start dinner. He lost interest before I had finished making dinner , so I decided to do a paper and glue project with him, which I hadn't prepared. (Word to the wise, prepare everything in advance.) So on the fly I cut out the pieces and helped him glue them down with a glue stick. The 'a is for apple' project turned out cute, but the process was a disaster. I was too busy, trying to get dinner ready (not something I enjoy doing) and Caden was hungry and tired of sitting. I think it ended in tears when he grabbed the scissors and I took them away. 🙁 I have to get better at controlling the situation and thinking ahead.
For more Tot School go to: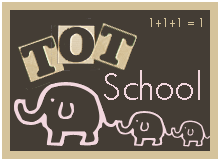 © 2012 – 2015, Stir The Wonder. All rights reserved.