~Caden is 23 months old~
(I apologize in advance for any crappy iPhone pictures, I didn't use my real camera much this week.)
This week I didn't plan any activities for Caden and I. We needed a break after going strong since September and I wanted to prepare for December. So I just followed Caden's lead, and went with the flow as we did a little of this, and a little of that.
Who knew that an unplanned week could be so interesting and educational? I learned a lot this week, mainly that Caden really does look forward to the activities that I plan for us.
At one point during the week, Caden noticed that our felt board was blank. So I asked him if he would like some felt shapes to plan with? He said "yeah" and I spontaneously cut out some shapes and threw them up on the board. Throughout the week we talked about the different shapes that are on the board. He is able to name the star, heart, and circle most of the time.
This week I also learned that Caden really likes to color. Caden is now able to take the lids off his markers and dot markers. He has also become much more intentional with his scribbles. Caden draws circular lines and says "circle" as he does it. During his coloring sessions we talk about the different colors. He can now name the color "bbbrrrown". Caden emphasizes the "br" sound. It is very cute!
Caden also loves to play with play dough! And we come to his play dough table many times per day. He mostly rolls it into snakes or balls. He also likes to use the rolling-pin and cookie cutters. I put out some new Christmas cookie cutter this week.
We also made fresh play dough, white scented with peppermint. I used this recipe from The Imagination Tree. Except I cooked mine on low heat instead of using hot water. That was a little tricky, since it was my first time using corn starch to make play dough. But in the end, I let the mixture heat up and then let it cool down to thicken up.
(These pictures were taken before the stove was turned on.)
Caden was very eager to help through the entire process. He helped to dump the ingredients into the pan and to stir it up. He even helped during the cooking process a little bit. I was a little nervous about him being so close to the stove while it was on, but he was very careful not to touch the hot pan and cooking surface. I kept it set as low as possible just in case.
Afterwards we played with the warm play dough with the gingerbread man play dough mat. We gave him eyes, a mouth and some buttons. I used this time to review the parts of the body with Caden. And we really enjoyed the peppermint smell.
Another activity that Caden really enjoys with washing dishes, AKA playing in the water. He will carry over his stool and roll up his sleeves to "wash dishes" any chance he gets. This has become a daily activity.
(watching the snow fall at Grandma's on Tuesday)
(This pretty much sums up how Caden felt about snow last February.)
This week Caden also got re-aquainted with snow or "shnow" as Caden calls it. He is much more receptive to it this year and I have high hopes that he will enjoy playing in it and building snowmen! And yes, he is wearing the same size 12 month coat and hat from last year. His 12 month snow pants still fit too! I'm so glad I only need to buy him new boots and maybe a better pair of mittens.
(making mini snowmen and snowballs with Daddy on Saturday)
Caden explored the new Christmas tot trays that I set out this week. But he wasn't interested in listening to my directions to properly play with them. I learned that according to Caden balls are meant to be thrown. This includes little puff balls. I think I may swap out this tray for something different.
One thing that Caden learned this week was how to blow his train whistle. We had gotten this whistle over the summer while visiting Thomas the Tank Engine at Edaville, but he couldn't quit figure out how to blow it. But recently Caden has gotten better at it, and he finally figured it out after I showed him a few times. He was very excited about this!
One day this week we went to the library. Caden had fun running around the park and playing inside. Unfortunately we went during the early afternoon (because someone messed up their naps, ahem.) so there were no other kids to play with. But I had a stack of Christmas books waiting for me so it was worth the trip.
Here is a picture of Caden checking out the books we got from the library before I wrapped them up for our Book-a-Day Christmas Countdown (more on that later). Disclaimer: No books were harmed in the making of this blog.
On Friday, Caden discovered the latched board again, and we sat down and played with that for a little while. I must say Caden has gotten pretty good at opening most of these latches. I'm not sure if that is a good thing, or a bad thing. 😉
For more Tot School idea, please visit: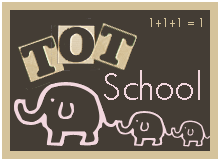 © 2012 – 2014, Stir The Wonder. All rights reserved.