Caden is 20 months.
Caden and I attempted our first week of tot school.  It was definitely a learning experience for me. Caden is a very active little boy and wasn't too interested in what I had planned.
This week's theme was apples. We read many books involving apples, such as Ten Apples Up on Top by Dr. Seuss, and Ouch! by Ragnhild Scamell  and most of the activities include apples.
Caden used a do-a-dot marker to decorate a numeral one, which I printed off from A is for Apples. He was really interested in playing with the cap, which is great for fine motor development.
Caden explored apple sauce as a sensory activity.  This lasted all of one minute. He really isn't too fond of sticky, slimy fingers; or apple sauce.
Then I decided to get out the paints. Caden is really started to enjoy painting with a brush. We created a fall tree with red, yellow and orange handprints for the leaves.
To wrap up the week, I brought out some apple spice scented play dough that we had made earlier. It was really sticky and no amount of added flour would cut down the stickiness. But Caden had fun nonetheless flattening the little balls I would roll for him or sticking a twig into it to  represent apples.
Caden really liked the smell of the play dough!
For Tot School ideas from other bloggers, please visit: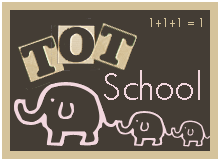 © 2012, Stir The Wonder. All rights reserved.