~Caden is 22 months~
This week we attempted to study leaves, the letter L, and the color yellow. We started out strong on Monday, but by Tuesday Caden was sidelined with a good head cold. Needless to say we spent the majority of the week sacked out on the couch in front of the TV, but we did manage to do some learning.
Monday morning we took our weekly trip to the library. Caden played while I attempted to look for some books to go along with our leaf theme. (Note to self: Remember to request books online before heading to the library so you can pick them up at the circulation desk.) We left the library with one leaf book. When I got home I requested a stack of books for this week and next week. We picked them up later in the week.
As usual, Caden played with play dough a lot. This week I added some silk leaves to his play dough center. Caden had fun standing the leaves in the dough and pressing the leaves into it to make lead prints. Later in the week, I made him fresh yellow play dough. He plays with it so often, I think I will have to make a fresh batch this week, as the yellow dough is already getting dried out and dirty looking. (Pictures are from prior to new yellow play dough).
I also added washable markers to his art center. Caden really enjoyed coloring with the markers. As he chose the colors to use, I would say the name of the color and sometimes he would repeat me. I don't think it will be long before Caden learns all his colors. Here Caden is coloring a leaf print out from the L is for Leaves pack from Oopsey Daisy.
Throughout the rest of the week Caden played with his construction vehicles in the fall sensory bin, sorted acorns into and ice-cube tray, and explored the color yellow with his yellow bin.
Caden hung out in his pajamas a lot this week, but by Friday Caden was feeling better and the sun was finally shining so we went outside and played in the leaves!
For more Tot School ideas please visit: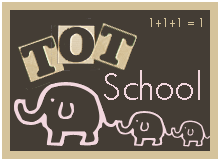 © 2012 – 2014, Stir The Wonder. All rights reserved.