The Turkey Feather Counting Game is a great way to introduce preschoolers to basic math concepts in a fun and hands-on way! This game can be played by one child or it can be played with two children or a child and an adult to work on counting, addition and subtraction skills.
The Hands-On Activities for Kids Monthly Link-Up is a place to stop by every month to share your hands-on learning activity posts! Brought to you each month by Stir the Wonder and Enchanted Homeschooling Mom.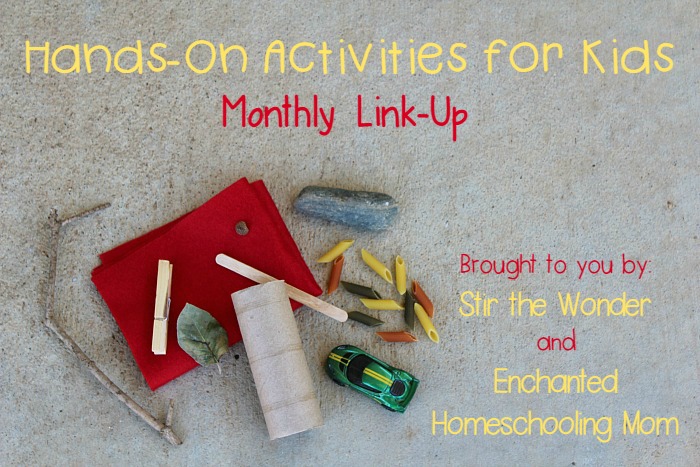 I've been working with Caden on developing his math skills. One way I do this is by creating fun and inviting games that will grab his interest. Last month I created this fun Pumpkin Grid Math Game! This
month I made a different math game that goes along with Thanksgiving!
To create your own Turkey Feather Counting Game you'll need the following supplies:
brown and white felt

scraps of golden and red felt

googly eyes

craft glue
To make the turkey felt mats is really easy. First, I found a round container lid in the size that fit on the white felt sheet, traced around it on the brown felt with a white crayon and cut it out. Then, I glued the brown circle onto the white felt sheet leaving an opening on the top to create a pocket for the feathers. Finally I glued on the googly eyes, a small golden-yellow triangle for the beak and a red teardrop shape for the gobbler.
To play this game is simple for preschoolers to do. I set up our felt turkey mats with a basket of feathers in the middle. Then we took turns rolling the die and counting how many feathers we added to our turkey pockets.
Another way you could play this game would be to start with several feathers already in the turkey and then take turns rolling the die and subtracting feathers from the turkey and counting how many feathers your turkey has left.
---
Candy Pumpkin Slime is a fun way to use up that Halloween candy! Read all about this taste-safe slime at Enchanted Homeschooling Mom!
Welcome to the Hands-On Activities for Kids Monthly Link-Up Guidelines! Please make sure to link directly to your post (not your main blog page) so we can all enjoy learning about your hands-on learning activity post that you want to share.
If you would like to spread the love for this blog hop by adding a button to your site please visit HERE to grab the code! We have created a Pinterest Board so that we can share all of your creative and inspiring hands-on learning ideas and activities. Make sure to stop by and check it out HERE.
Please link up your hands-on learning posts below. Feel free to link up as many posts as you would like to both new and old!
Save
© 2014 – 2017, Stir The Wonder. All rights reserved.