Welcome to day 12 of the ABC's of Nature series hosted by School Time Snippets. So far the series has covered everything from ants to Kingfisher birds and a big variety in between so be sure to head over to School Time Snippets to check it all out! Lots of nature learning going on over there!
We've been doing a lot of nature exploration lately now that we live in the woods of New Hampshire.
Nature is right at our fingertips! One day a week ago or so, we went on a little leaf hunt around our house. I was surprised to find such a variety! In our old house in urban/suburban Rhode Island, we would have only found oaks and maples, here we found six different kinds of leaves and I wouldn't be surprised if there were others we missed!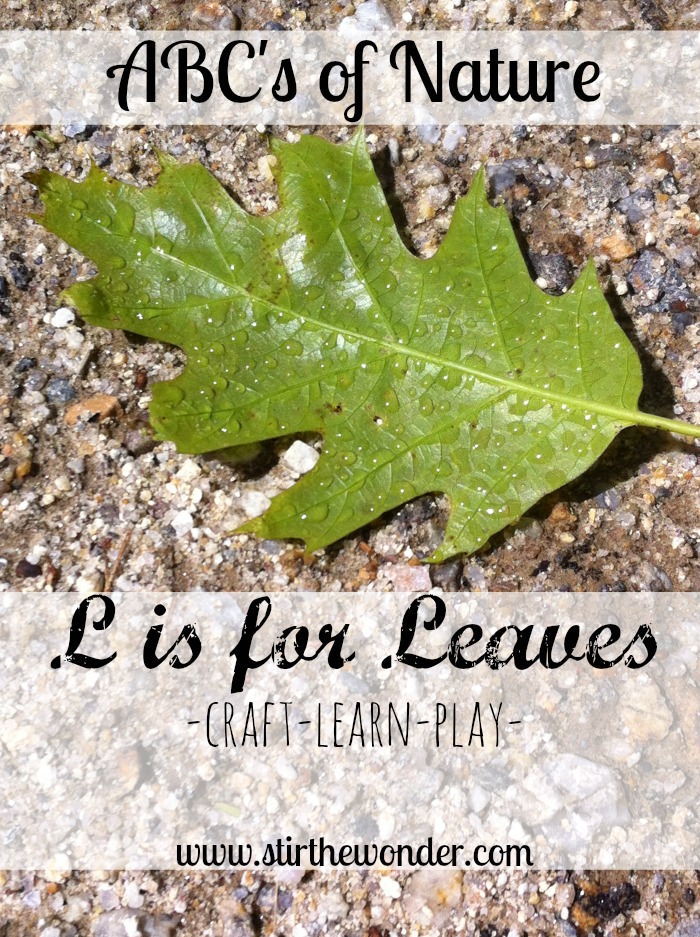 So with our collection of leaves we headed inside to prepare them for the laminator. Sorry I don't have pictures of this process, but basically we just laid the leaves out on paper towels and put books on top to flatten them out a bit. Then later that afternoon, I ran them though my laminator machine.
A couple of days later we set out to properly identify our found leaves. I had a good idea of what they were, but I wanted to be sure. So I ordered this Take-Along Guide of Trees, Leaves and Bark for Caden to learn more about leaves and trees. This book isn't very detailed and is perfect for budding naturalists. But for myself I wanted more details. I found this neat app on iTunes and downloaded it onto my iPhone. It's called Leafsnap, and it's so cool! To use it you take a picture with your iPhone of the leave on a white background and it will pull up possible matches for you to review and help identify your leaf! I was able to identify all the leaves we collected! We found a maple and an oak, as well as American Beech, Birch and Eastern Cottonwood. We also pulled a fern frond. Did you know fern "leaves" are actually called fronds?
After the leaves were laminated, I set up the table to do some leaf rubbings, and waited for Caden to take an interest. Turns out he wasn't that interested… but he did try! oh well, I still had fun!  Other things you can do with laminated leaves are explore them on the light table like Racheous- Loveable Learning or make a leaf mobile or suncatcher like Artful Kids. Below you will find more ideas for learning, crafting and playing with leaves!
More Leafy Ideas
Learning about Leaves
Autumn Leaves Quiet Book & Fall Homeschool Unit from Imagine Our Life
Learning about Leaves from Trillium Montessori
L is for Leaf: Learning Upper and Lower Case Letters and their Sounds from Evolving Motherhood
Books & Activities about Leaves
Leaf Man Art from Ready-Set-Read!
Leaves and Seeds: Great Books & Nature Activities from KC Edventures
Red Leaf, Yellow Leaf Sensory Bin from Stir the Wonder
Crafts & Activities using Leaves
Leaf Sewing from Fairy Dust Teaching
Fall Leaf People Craft from Fantastic Fun and Learning
5 Simple Leaf Activities from The Educator's Spin On It
Make Leaf Rubbing Animals from Education.com
© 2014 – 2017, Stir The Wonder. All rights reserved.