The new baby chicks arrived in the mail last week, so to celebrate I thought I would round up these 20 chick and chicken crafts for kids. Since it is chick season here on the farm, all my thoughts have been taken over by chicks, even when it comes to arts and crafts for the kids!
Chicks Arrive By Mail
Ever since we moved to this property we've been planning to order chicks from a hatchery and having them shipped via the post office. We were so excited to pick out some different breeds that are not sold in local feed and farm stores.
We ended up getting 14 egg laying chicks and 20 meat birds. They all arrived right on time, safe and sound. Actually they were very loud when the arrived. The sound of their peeps was deffening as we were getting them settled into their brooders in the chicken coop.
Raising young chicks for eggs and for meat has definitely been a learning experience, but we are well on our way to a dozen fresh eggs a day and a freezer full of homegrown chicken.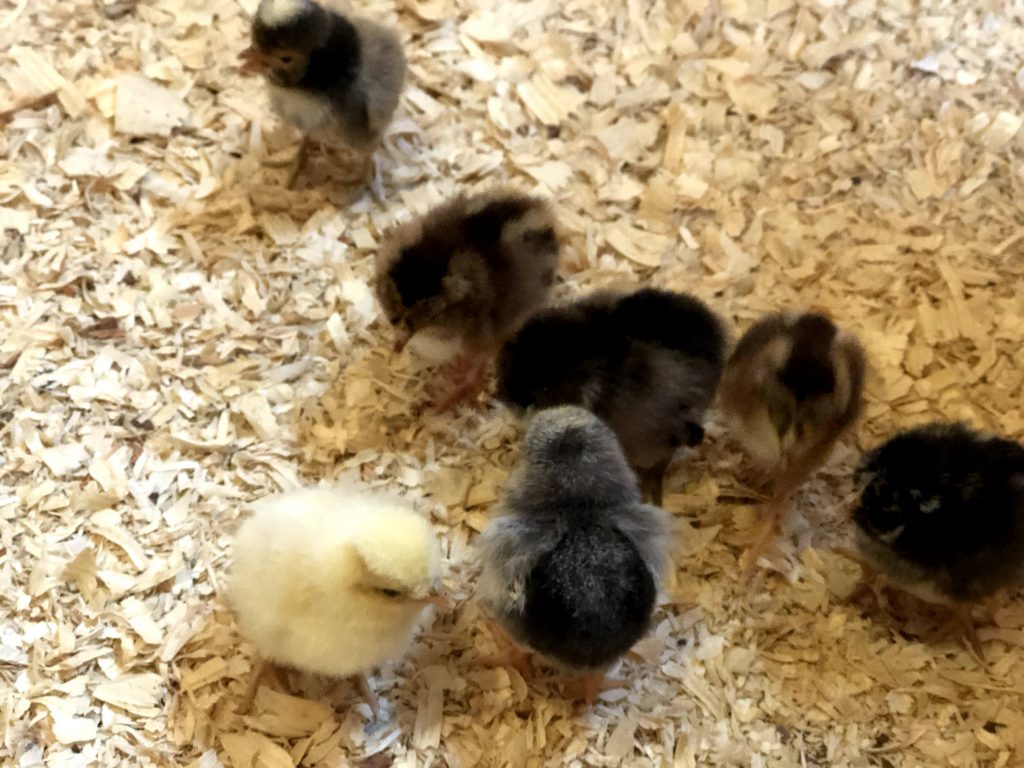 Chicken Art for Kids
These funky chickens are just too cool and creative! I am planning on having my kids make their own funky chickens to hang up on the wall in the kitchen.
Another artistic chicken project are these watercolor shape birds. Kids draw what looks like a chicken to me, then fills in he body with shapes and finally paints it with watercolors.
I just love these funky chicken collages made with recycled materials! This brilliant art project is so creative and unique to each artist.
Drawing a rooster doesn't have to be difficult. Anyone can learn how to draw a rooster using basic shapes with this simple tutorial, even kids!
These painted paper chickens are created in the style of Eric Carle and I just adore them! It's a great art project for kids of all ages to get involved in.
Another creative art project are these chicken collages! Kids will use tissue paper, glue and paints to create these one of a kind works of chicken art!
This chalk pastel rooster art project inspire by Picasso is perfect for older students. They can learn how to create with chalk and learn a little bit of art history too!
Here is another project I came across that was inspired by Picasso. Apparently Picasso like to draw roosters. This rooster art project explores cubism, a style of art from the early 20th century.
Chicken Crafts for Kids
This handprint chicken craft is perfect for toddlers. Simply trace your toddlers hand on paper, cut it out and add the cut outs from the free printable.
These paper plate hens are made with paper plates and markers. It's so easy that kids of all ages would have fun creating this unique craft.
Here is a paper plate chick craft that is super cute and perfect for spring! You will need paper plates and the free template for this chicken craft.
This geometric chicken craft is super adorable with its wing flap and eggs underneath. This would be a great craft for preschoolers.
Here is another cute construction paper chick craft that is simple and perfect for little kids. Making this chick craft would be a fun way for kids to decorate for Easter.
These pom pom chicks look almost as cuddly as the real thing! This chick craft for kids made of yarn sure would make a cute substitute.
With a couple folds of paper kids can make these adorable chick and chicken bookmarks. How cute would this look in your raising chickens reference book?
This chicken craft made of paper plates are super cool looking! I just love how kids can get really creative with them and express themselves with the artistic design.
More Chicken Crafts
I love how this chicken life cycle craft is a project as well as a science lesson for kids. Plus, its use of rocks and paint makes it a unique and lasting craft which can be saved and used every year.
This fun chicken craft shows kids how mother hens keep their baby chicks warm under their wings. The feathers used in the craft gives it a very real feel.
Here's a cute paper chick craft that is perfect for kids. I love how each accordion chick can be uniquely designed by each child.
This creative hen craft uses an easy, downloadable template. Once your students design and decorate it, it becomes a little puppet.
I hope you and your children will have so much fun creating these chicken art and craft projects! Be sure to follow our farm adventures here and on social media!
If you are looking for more farm themed fun here are some favorites:
© 2021, Stir The Wonder. All rights reserved.