When Laura of Lalymom asked me if I wanted to join her and three other bloggers for a series featuring fine motor activities I was very excited! This was just the motivation I needed to write up this fun post! So for every Friday in October Lalymom, Craftulate, School Time Snippets, Next Comes L, and myself will be posting fun activities that promote development of fine motor skills. So after reading this post you will want to go check out what fun they have posted about!
We have been working really hard over here on Caden's fine motor skills. He is actually slightly delayed (according to his occupational therapist) in this area of development due to his sensory issues, active energy and short attention span. So when I saw these fall leaf clothespins at Micheal's the other day I knew just what to do with them!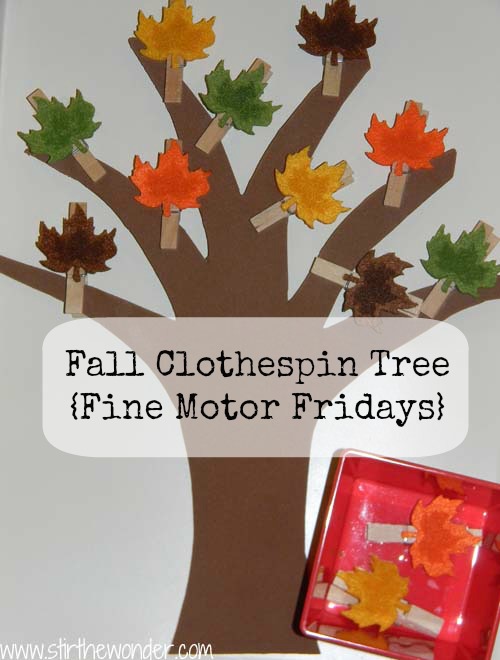 This is a very easy to make fine motor activity using brown craft foam and the leaf clothespins. It didn't take me much time at all to sketch out the shape of a tree on the craft foam and cut it out. Then I displayed it nicely on my newly painted activity trays (cookie sheets from the Dollar Tree) and invited Caden to work those hand muscles by pinching the clothespins, removing the leaves from the tree and placing them in a small container.
I wasn't sure that Caden would be interested in this activity based on previous experience, but to my surprise he got right into it! He used his pincer grasp and removed each leaf one at a time, and carefully placed it into the red container. I would have liked to see him place the leaves back on the tree, but was happy to see him focus on an activity for the time that he did. I was also impressed that he put it back on the shelf when he was done.
Some tips that I think contributed to his success: I had a small quilt spread out on the floor which defined the activity area and seemed to help focus his attention, much like the Montessori idea of an activity mat. This was also the first time using the activity tray and it had a similar effect. When I asked my fellow kid blogger Deb of Living Montessori Now about why this may be, she explained that by using a tray to hold materials directs a child attention to that activity and that the organized manner of a tray helps to organize the child's mind.

We've also been working with the occupational therapist on cleaning up and putting his toys or activities away when he is finished. I was very pleased when Caden picked up and put the tray away when he was done, with no prompting from me. 🙂
Happy Fine Motor Friday!
Go check out these great fine motor ideas from:
---
Our NEW 99 Fine Motor Ideas for Ages 1 to 5 is full of all types of enriching fine motor activities that your kids will love! And you will love them too because they are simple to set up and use everyday items you probably have around the house! Each activity includes full color photos, a materials list and step-by-step instructions. It's a fantastic resource for parents, educators, and caretakers!
For more ways to explore, play and wonder please follow Stir the Wonder on
 Facebook , Twitter, Google + and Pinterest!
© 2013 – 2017, Stir The Wonder. All rights reserved.