This week we started a unit on space and the solar system. It's really hard for preschoolers to comprehend the vastness of space, so we have to begin with the basics and make it hands-on. I made this solar system using craft foam so Caden could see the differences in the planets, learn their names and their distances from the sun.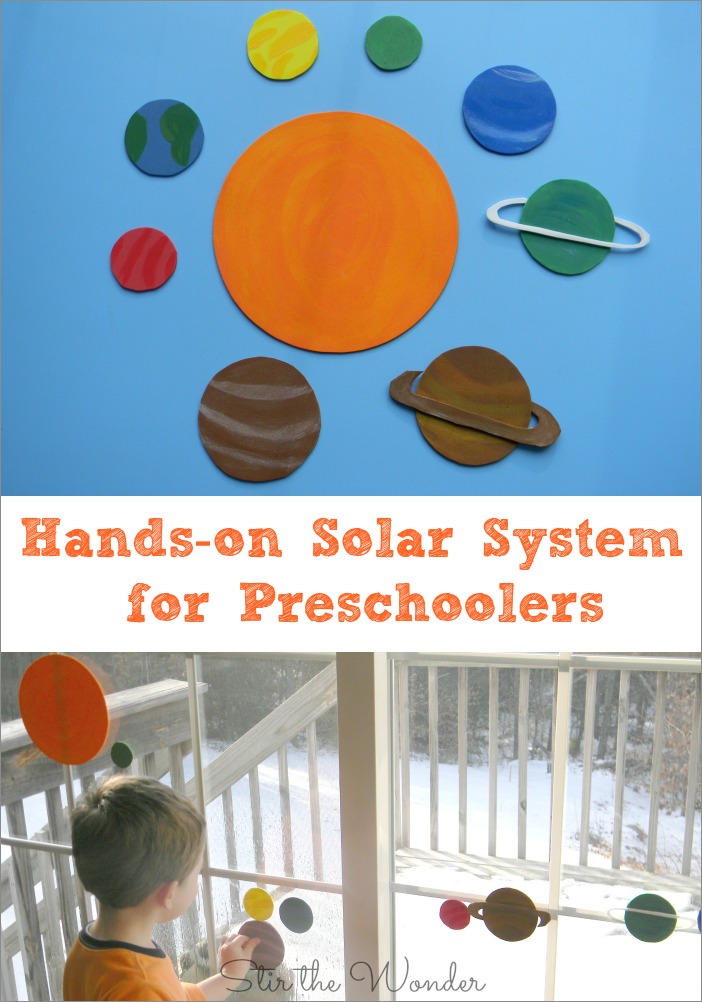 Hands-on Solar System for Preschoolers
Supplies:
craft foam

circle patterns (bowls of different shapes)

scissors

acrylic paint

hot glue gun
To make this hands-on solar system trace your circles onto the craft foam and cut then out. I used different sizes of bowls and cups to make the different sized planets. I tried to make the sizes relevant to each other. Then I added more details using acrylic paint. I cut out the rings for Saturn and Uranus and attached them with a little hot glue. This post contains Amazon Affiliate links.
To play with this hands-on solar system all you need is a large window and a spray bottle of water. It will even work in the bathtub! Caden sprayed the window with water and stuck the planets up one by one starting with the sun. As he put them up we talked about the names of the planets and I pointed out how some planets were closer to the sun and some were farther away. We also talked about the similarities and differences of the planets, how some have rings around them and some do not.
To make sure we got the order of the planets correct we used his new LeapFrog LeapReader Interactive Solar System Discovery Kit. This is an activity board that uses the LeapFrog LeapReader and teaches astronomy and earth science with stickers, fun facts and games!
Books are also a great way for kids to learn about the solar system. We picked up What is the Solar System? from the library. Other great books for preschoolers about the solar system include:
Check out the STEM Saturday co-hosts top posts in Science, Technology, Engineering & Math!
Does Snow Sink or Float from Lemon Lime Adventures
Ichnology from Suzy Homeschooler
Magnetic Ice Science Sensory from Little Bins for Little Hands
QR Codes for Kids | An Introduction to Technology from The Science Kiddo
Save
© 2015 – 2017, Stir The Wonder. All rights reserved.