The beginning of September means back-to-school and back-to-school gets us all thinking about apples which leads us to craving the homey goodness that is apple pie! To keep the cozy aroma around the house all month long, I created this Apple Pie Sensory Bin for Caden to enjoy!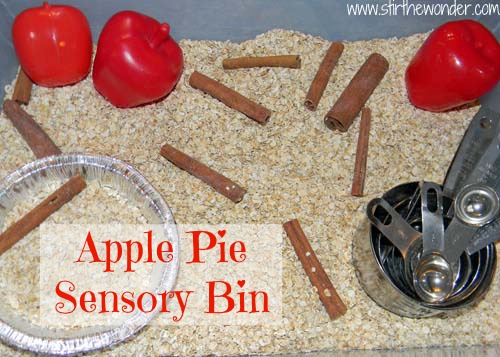 So to make your own Apple Pie Sensory Bin you will need:
A shallow container

2 lbs of quick oats

cinnamon sticks

a mini pie pan

measuring cups and spoons

play apples
Sensory bins are so easy to make, just add the contents into your shallow container and set it out to play! Done! I love that! And it is nearly guaranteed that your child will love playing with it! 
This sensory bin was a hit with Caden, he has played with it almost everyday since he discovered it! He actually started to play with it before I was finished putting it together!
He enjoys dumping out the pie tin!
And filling it back up with the measuring spoon!
And smelling the cinnamon sticks!
He has even added the sensory play into his kitchen play, by cooking up some oatmeal! Yum!

Keep an eye out for another apple themed play idea to come out next week!
And for more ways to explore, play and wonder please follow Stir the Wonder on
 Facebook , Twitter, Google + and Pinterest!
© 2013 – 2014, Stir The Wonder. All rights reserved.