Are you looking for a fun project to get not-so-artsy kids interested in art? Building and painting with a LEGO® Duplo Paint Machine is a wonderful way for kids to experiment with science, technology, engineering, art and math (S.T.E.A.M.).
This post contains affiliate links.
LEGO Duplo Paint Machine
This open-ended activity is perfect for getting kids interested in S.T.E.M. and creating art!  Remember, even if you don't have these exact LEGO® Duplo bricks you can always use what you have! Learning will take place anyway! ?

Supplies:
Duplo turntable brick (found in THIS set)


2×2 Duplo bricks

2×8 Duplo plate

4×8 Duplo plate

Paintbrush

Tempera paint

Paint tray

Large sheets of white paper

blue sticky tack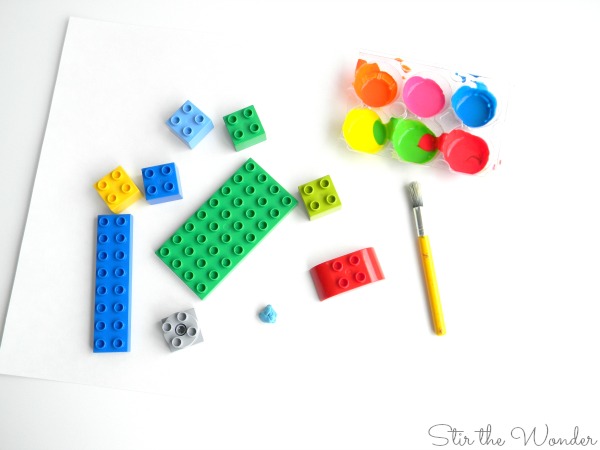 Building Guidelines:
Use Duplo bricks, plates and turntable brick to build a paint machine. Make sure it is the correct height to fit your paintbrush!

Use the blue sticky tack to attach the paintbrush to the bottom of the 2×8 Duplo plate and to keep the paint machine upright by sticking some to the bottom of the 4×8 Duplo plate.
How to use the Paint Machine:
Dip the paintbrush in the paint, attach the paintbrush to the paint machine.

Place paint machine on top of large sheet of white paper and spin it around to paint circles on the paper.

Experiment with using the paint machine with different paint colors, building and painting with the paint machine at different heights and spinning the machine fast and slow.
Questions to Facilitate Learning:
How can you improve the paint machine?

What happens when you spin the paint machine fast? slow?

How do you think different types of paints will react with the machine? Let's try it!
Are you interested in more learning with LEGO® ideas?
Check out our new book The Unofficial Guide to Learning with LEGO®! In it are over 100 hands-on learning activities from literacy to S.T.E.A.M. using LEGO® bricks!
Be sure to sign up for our NEWSLETTER to stay up to date on all the book happenings and join our awesome Learning with LEGO Facebook group for more educational ideas using LEGO®!
 LEGO® is a trademark of the LEGO Group of companies which does not sponsor, authorize or endorse this site.
© 2016 – 2017, Stir The Wonder. All rights reserved.