The Alphabet Fish Matching Game combines letter recognition and fine motor skills! It would be a fun activity for a pets or ocean themed preschool unit!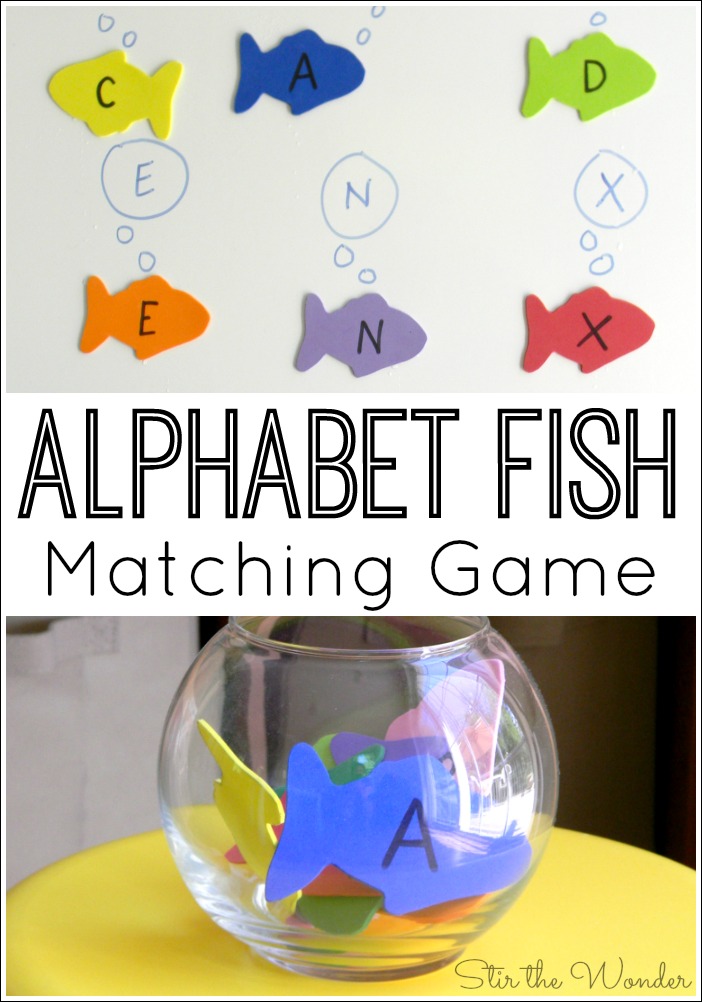 This post contains affiliate links.
Alphabet Fish Matching Activity
This fine motor activity takes a little prep time for the teacher or parent. Gather the supplies listed below and follow the instructions to set up this activity.
Supplies:
colorful craft foam
fish stencil or cookie cutter

pencil

scissors

whiteboard or window

spray bottle

permanent marker

dry erase marker
To Prep:
Trace the fish pattern using a pencil on to the craft foam. Make as many as needed, using different colors.

Cut out the foam fish using scissors.

Use a permanent marker to write letters on the fish. Write as many as needed for the kids to review. It can be all the letters of the alphabet or just a selection.

On the window or whiteboard use a dry erase marker to draw bubbles and write the corresponding letters in them.

Set out the fish in a bowl and a small spray bottle with water next to the activity and invite a child to play the matching game!
How to Play:
To play the Alphabet Fish Matching Game kids will select a fish from the bowl, find the matching letter bubble, spray the bubble with water and stick the corresponding fish to the whiteboard or window. Preschoolers will have fun reviewing the alphabet as they work on strengthening fine motor muscles with the spray bottle!
Tips:
Only half fill the spray bottle with water, if it is too full children might have a hard time holding it.

Keep a small towel handy to wipe up the dripping water!
Like this fine motor activity? There's more just like it in our two fine motor books! Click the image below for more information!
© 2016 – 2017, Stir The Wonder. All rights reserved.