November's featured author for the Virtual Book Club for Kids is Tomie dePaola. And since this Thursday is Thanksgiving I chose to read My First Thanksgiving. This is a simple little book and is a perfect way to introduce Thanksgiving to any toddler with a short attention span.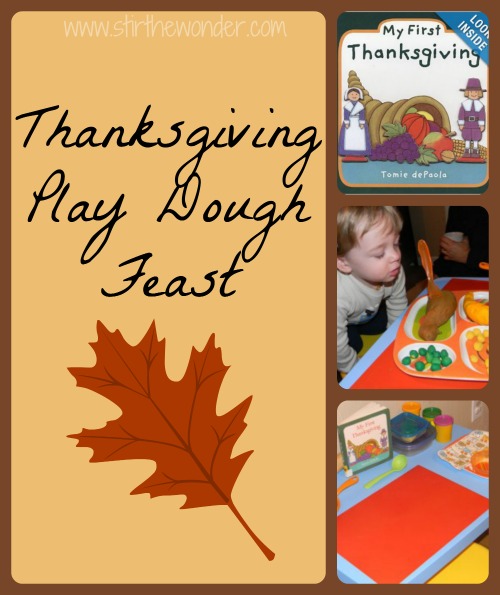 To go along with the book, we had a Thanksgiving Play Dough Feast. The night before I gathered Caden's play pot, pan and spoon; a rolling-pin, plate, bowl, spoon and fork and set them all up on his new little table. I also made some brown play dough and incorporated some other colors, home-made and store-bought.
We had a lot of fun creating our feast using the play dough. Caden was very excited when I rolled the green and yellow play dough into little balls to make peas and corn. I used the orange play dough to make a carrot and the brown to make a turkey leg and dinner roll.
Caden was very good at pretending to eat and cook the play dough feast. He never once put the play dough into his mouth (although the dog did…). I am surprised at his ability to pretend and use his imagination  since he is a little young for dramatic play at not quite two. But I expect we will be doing a lot more pretending in the year to come.
On a side note, notice the sunrise in the background. Yes, the sunRISE. Caden woke up very early this day and saw my set up so I just went with it.
Save
© 2012 – 2017, Stir The Wonder. All rights reserved.