Do you have a child who is fascinated by outer space? This week we are continuing the space theme! Last week I shared our Hands-on Solar System for Preschoolers. Today, I am sharing a FREE printable Moon Math Game to teach counting, one-to-one correspondence, and number recognition to preschoolers.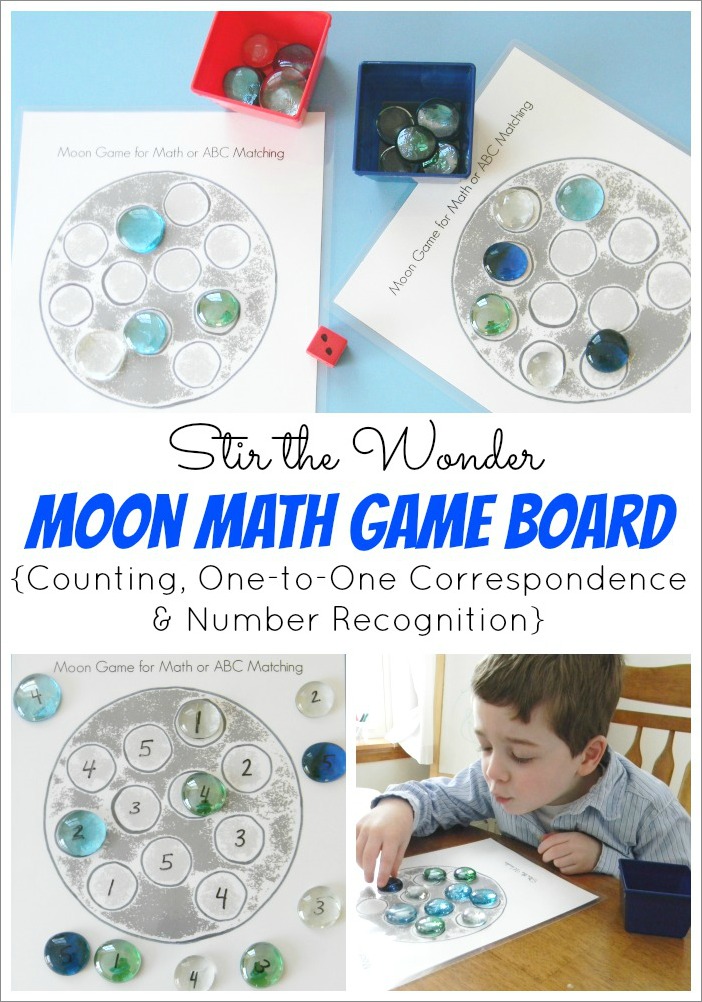 This post contains affiliate links.
Moon Math Game Board
I wanted to make a space themed grid game that was a little different than a square grid, so I drew this one up, scanned it into the computer, added some color and made it a FREE printable to share with everyone! (You're welcome! And please make sure you share this link with your friends and not just the download file. Thank you!)
To make a Moon Math Game for your preschooler first download and print two copies of the Moon Math Game Board found HERE. Then I laminated them for durability and re-usability. There are a few different ways you can play with this game board so it helps to have it laminated. All the games use these large glass gems.
The first game we played with this game board is just like the math grid games. We take turns rolling the die and placing however many gems on our game boards. The first player to fill their game board wins. This is a great game for teaching counting and one-to-one correspondence.
The second way you can use this game board is to practice number recognition. Use a wet erase marker write the numbers your child needs more practice to recognize in the circles on the game board. Then write those same numbers on some glass gem stones. Your preschooler can then practice number recognition by matching up the numbers on the game board with the numbers on the glass gems.
Using the same concept you can also use this game board to work on alphabet recognition with toddlers and preschoolers!
Check out the STEM Saturday co-hosts top posts in Science, Technology, Engineering & Math!
Party Cloud Dough | Glittery Fizz from The Science Kiddo
Valentine's Day Polygon Building from Lemon Lime Adventures
Save
© 2015 – 2017, Stir The Wonder. All rights reserved.