Young kids need to be introduced to the alphabet many times, in new and novel ways for it to stick. One way to come up with interesting activities is to use themes based on holidays, seasons or a child's interest. Last month I created a fun Christmas themed alphabet activity, and this month I've come up with a ABC snowflake match activity that is a fun way for preschoolers to practice letter recognition.

The Hands-On Activities for Kids Monthly Link-Up is a place to stop by every month to share your hands-on learning activity posts! Brought to you each month by Stir the Wonder and Enchanted Homeschooling Mom.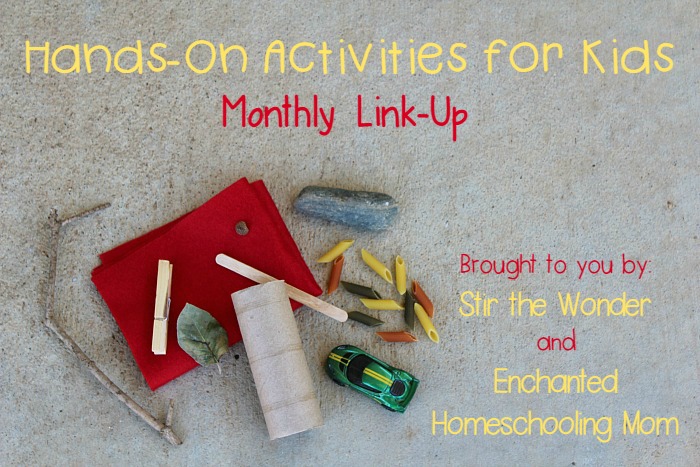 The ABC Snowflake Match is a fun way for young learners to practice letter recognition. It combines a fine motor activity with ABC matching that toddlers and preschoolers will love! To create this activity for your child(ren) you just need a few things.
Materials Needed
white craft foam or pre-cut craft foam snowflakes

snowflake template

scissors

glitter glue or permanent marker

small spray bottle & water
To make these alphabet snowflakes I traced the snowflake template on white craft foam and then cut them out. I had planned to use pre-cut snowflakes but couldn't find any. After I had all the snowflakes cut out I wrote letters on them with glitter glue. You could also use permanent marker.

The next morning, I wrote letters on our sliding glass door with window markers and filled a spray bottle with a little water. Then invited Caden to come match up the snowflake letters with the letters I wrote on the window. Caden loved spraying water on the window, which is a great fine motor exercise and sticking up the matching snowflake letters! This was the first time we had ever done an activity like this and he did surprisingly well matching up the letters!
---
Here's a fun activity from Enchanted Homeschooling Mom that ties fun Groundhog's Day facts with a gross motor game!
---
Welcome to the Hands-On Activities for Kids Monthly Link-Up Guidelines! Please make sure to link directly to your post (not your main blog page) so we can all enjoy learning about your hands-on learning activity post that you want to share.
If you would like to spread the love for this blog hop by adding a button to your site please visit HERE to grab the code! We have created a Pinterest Board so that we can share all of your creative and inspiring hands-on learning ideas and activities. Make sure to stop by and check it out HERE.
Please link up your hands-on learning posts below. Feel free to link up as many posts as you would like to both new and old!
Save
© 2015 – 2017, Stir The Wonder. All rights reserved.