Painting with tools is a fun way for toddlers and preschooler to explore the different shapes and prints made by the tools and to experiment with color mixing. This is an open-ended art activity that is all about the creative process. There are no rules or directions, just fun!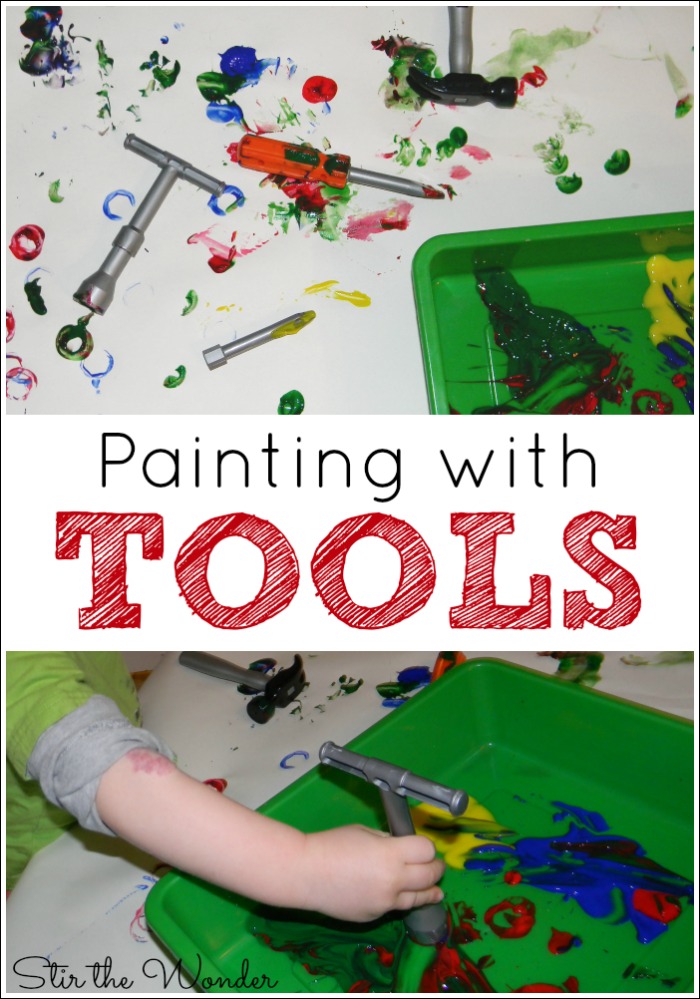 This post may contain affiliate links.
Supplies for Painting with Tools
 Setting Up for Painting with Tools
Cover your art surface with a large sheet of white paper. Use blue painters tape to keep the paper from shifting on your little artists. Set out a plate of different colored paints and a selection of toy tools for your children to choose from. Using complimentary paint colors will make an interesting piece of artwork! If the thought of painting with kids makes you squeamish, check out these Easy Clean Up Tips for Doing Art, Crafts & Messy Play with Kids.
Your kids will really enjoy trying out all the different tools and seeing the different shapes each one makes! As your kids experiment with the different tools you can name the different shapes for them and make suggestions for holding the tools to make different prints. 
With this process oriented art activity, kids will be able to experiment with color mixing. With younger kids you can name the different colors they choose and point out the colors they make when mixing the paint colors.
Other process art activities your kids may enjoy:
Save
© 2013 – 2017, Stir The Wonder. All rights reserved.