Do your kids love to find little critters in nature and ask to keep them for a while? Do you struggle with finding something to keep these special pets in? This is why we built a mini ecosystem! It's a wonderful learning experience for kids to observe bugs, small reptiles and amphibians for a short amount of time in a small container that includes elements from their natural habitat.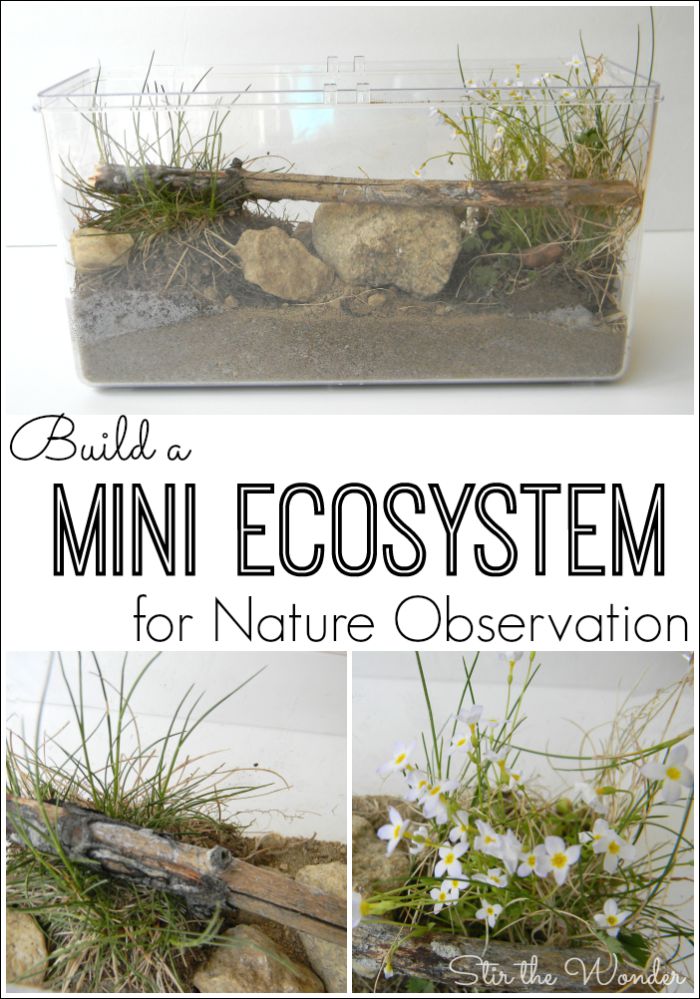 This post contains affiliate links.
Build a Mini Ecosystem for Nature Observation with Kids
We have used our mini ecosystem many times over the last few months. My son and I enjoy going on nature hunts throughout our property. We have found many amazing critters including spiders, insects, caterpillars, moths, toads and snakes! And we always learn as much as we can about each creature while we observe them in our mini ecosystem. To make your own mini ecosystem here's what you'll need!
Supplies:
Small Aquarium or Kritter Keeper

rubber band

Natural materials (dirt, sand, rocks, sticks, plants etc)

critters
How to Make your own Mini Ecosystem!
We first learned about how to make an ecosystem from a wonderful book called Nature in a Nutshell for Kids. This book is full of over 100 nature activities for kids to do all year round!
To make your own mini ecosystem with your kids couldn't be easier! With your kids' help follow these simple instructions!
Fill your small aquarium or Kritter Keeper with a layer of dirt.

Add some grass or other plants, rocks and sticks. 

Cut your screen to fit over the top and secure with a rubber band. 
Now you are ready to go on a nature hunt with your kids and find some cool critters to observe! 
We have used our mini ecosystem to observe all kinds of creatures. Sometimes we only keep them for observation for a couple of hours, other times we have kept critters for a few days. During longer observations we include a food source along with water. 
We also clean our ecosystem between each critter observation. It's a good idea to do this often because bugs and other animals may carry different germs. They also eliminate in the container which creates a smelly mess.We also enjoy creating new habitats for the critters we find!  
Do you enjoy going on nature hunts and observing nature with your kids? Then you'll enjoy our new interactive nature series for kids we are working on with our friends at Still Playing School! We recently discovered our mutual love of all things nature and have decided to share our nature finds on Instagram! Please join Stir the Wonder and Still Playing School on Instagram by tagging your nature photos with #kidsnaturehunt so we can all enjoy the beautiful world around us.
Tips for Observing Nature with Kids by Still Playing School
More from Stir the Wonder
Follow Samantha @Stir the Wonder's board Play & Explore Nature on Pinterest.
Save
Save
© 2015 – 2017, Stir The Wonder. All rights reserved.