The other morning as part of our Halloween themed week, I cut open a pumpkin
and let Caden explore the guts!
I gave him a couple of spoons and let him help scoop out the guts and seeds.
Then Caden decided to dump the rest out.
He spent a good portion of the time banging on the hollow pumpkin with the spoons.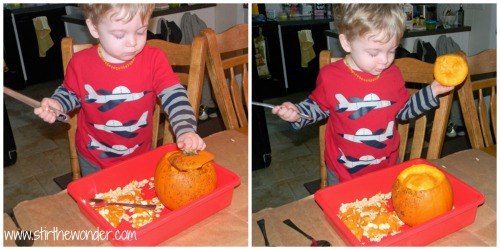 Caden played with the pumpkin top. Taking it off and fitting it just right to get it back on.
Caden wasn't too fond of the sticky, slimy guts so I put them into a resealable sandwich bag.
I wasn't too worried about the bag opening,
but if you are you can tape over the resealable edge with clear packing tape.
He really enjoyed squishing the seeds and pulp around in the bag. He kept repeating "squishy".
Then he decided to put the guts back in the pumpkin and take them back out.
He repeated this action a few times.
Caden enjoyed the squishy bag of pumpkin guts so much, I am sure if I let him he would have played with it all day! Right before clean up time, Caden took the bag of guts to show his canine friend, Tyson.
Overall, we had a good time exploring the pumpkin guts! Caden and I spent a good half hour playing with the pumpkin, which if you know Caden he doesn't spend much time doing anything!
And my favorite part, we surprisingly didn't make too much of a mess! I taped down an opened up paper grocery bag first, and used a tray to contain the guts. And please remember to keep the knife out of reach.
Happy Halloween!
© 2012 – 2013, Stir The Wonder. All rights reserved.