Fall is a really great time of year for some sensory play! It isn't too hot outside so many afternoons can be spent outside exploring and playing with sensory activities. But sometimes it can be chilly or rainy and sensory activities are a great way to pass a cool or rainy day! Here are 10 Fall Sensory Play Ideas including some of our favorites from past seasons!
1. Red Leaf, Yellow Leaf Sensory Bin from Stir the Wonder
2. Fall Leaves Sensory Soup from And Next Comes L

3. Fall Sensory Bin with Pumpkin Play Dough from Wildflower Ramblings

4. Apple Scented Cloud Dough from Frogs and Snails and Puppy Dog Tails

5. Apple Pie Sensory Bin from Stir the Wonder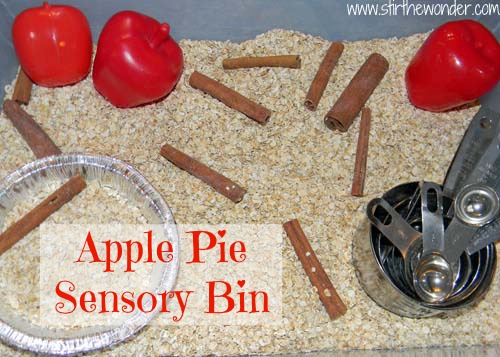 6. Water Beads & Apples Sensory Play from Little Bins for Little Hands

7. Jack-o-Lantern Sensory Bin from Stir the Wonder
8. Halloween Sensory Bags from Plain Vanilla Mom

9. Autumn Sensory Bin: Little House in the Pumpkin from Adventure in a Box

10. Pumpkin Guts Exploration from Stir the Wonder
For more ways to explore, play and wonder please follow Stir the Wonder on Facebook and Pinterest!
© 2014, Stir The Wonder. All rights reserved.